With today's 3-2 victory against Northwestern, Illinois completed a three-game sweep of the Wildcats.  Once again, Matt Milroy was fantastic in relief.  He pitched 6 2/3 innings of shutout ball and struck out eleven batters and allowed just two hits.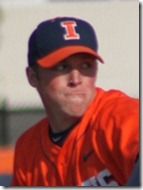 Northwestern actually got off to a good start today getting a two run lead by the third inning.  It was the first lead the Wildcats had all weekend.  Once Milroy got in there in the third inning, he really stopped the bleeding.  For four innings, the Wildcats were stymied and were held hitless. 
Meanwhile, Illinois picked away at the lead.  They scored one run in the fourth on an rbi double by Jordan Parr bringing Brandon Hohl home.  Two innings later, it was Hohl who drove home Willie Argo on a base hit.    In the eighth, we saw Hohl drive home Argo again on a sac fly to put Illinois ahead 3-2. 
The bottom of the ninth got a bit dicey for Milroy.  He hit the first batter then walked the next.  One out later a Wildcat single loaded the bases with one out with a slim 3-2 Illini lead.  Milroy induced a pop up for the second out to keep the bases loaded and struck out the last Northwestern batter for the Illini win 3-2. 
It was Milroy's second win of the year.  How's this for a stat?  Hard-throwing Matt Milroy has struck out 54 batters in 41 innings in 2012.  Of course, that comes with 30 bases on balls but Matt has gotten his ERA down to 3.51. 
Saturday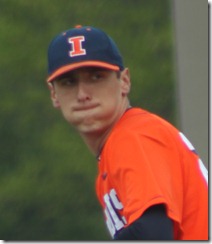 Speaking of good pitching performances, congrats to Illini starter John Kravetz who won 5-4 against Northwestern on Saturday.  It was his seventh win (7-3) which breaks the team record for wins by a freshman.  All pretty amazing since we've just started the second half of the conference season.  
Kravetz (left) was on his game Saturday.  Northwestern was held scoreless for the first six innings (with Kevin Johnson's shutout on Friday, the Wildcat's were shut out for the first 15 innings of the series).  Northwestern finally got to Kravetz in the seventh, scoring four runs. 
Meanwhile, Illinois' offense had already done its damage.  The good guys scored two runs in the first inning thanks in part to a Jordan Parr rbi double.  Kelly Norris-Jones led off the second and Reid Roper promptly drove him home with a base knock.  It was Norris-Jones again in the sixth who made the difference.  His single scored both Jordan Parr and Thomas Shelton. 
Ronnie  Muck came on in the 7th inning and finished out the game.  His line is pretty impressive.  Three innings, just one hit and 2 strikeouts for his third save of the year.  Muck now has the lowest ERA among the qualifiers on the team with a 3.15 mark (opponents hit a measly .196 against him, too). 
With this weekend's sweep, Illinois now have a winning conference record at 8-7.  In two weekends, they have risen from ninth place to at least fifth place depending on other results today. 
Next Up
Illinois takes on Southern Illinois again.  Illinois has played them twice already in 2012 and defeated them both times 8-2 and 13-5.  This time, the game will be at Illinois Field.   Game time is Tuesday at 6:05pm. 
See you at the ballpark!
Related posts