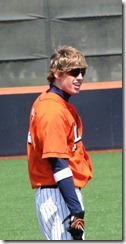 I was tipped off that former Illini catcher Lars Davis made his 2012 Spring Training debut last week for the Colorado Rockies.  That prompted me to check up on our other former Illini and see how they were faring so far during pre-season.  Since his start, Lars Davis has appeared in two games for Colorado and has gone 1 for 3 with a double and an rbi. 
Another former Illinois catcher, Chris Robinson is now in his third spring training.  However, this year it's with a new team, the Texas Rangers.  So far this year, he gone 1 for 6 in five games with a double and a run scored.  Robinson's teammate on the Rangers and a former Illini, Kyle Hudson (right, during his Illini days) has played seven games as of today.  He's 2 for 9 with 3 runs scored and two walks.
ST will be wrapping up in three weeks.
Good luck, guys!!
Related posts
Filed under: Former Illini in the pros on March 13th, 2012 by: Thomas Nelshoppen