Shortstop Thomas Lindauer makes the play at first
Illinois baseball team came home to a crowd of 827 baseball fans and did everything they could to not disappoint.  Hosting the Mississippi Valley State Delta Devils, they succeeded as they outslugged the opposition 15-6 behind the solid pitching of Kevin Johnson. 
Things were a bit back and forth for a few innings but the Illini managed a 4-2 going into the fifth inning.  Bill Charvat made the big difference so far in the game with his two-run single in the fourth inning scoring both Kelly Norris Jones and Reid Roper. 
But the best was yet to come for the Illini.  No stranger to big innings as of late, they put one together of their own.  In the fifth, thirteen Illini batters came to the plate eight of them scored.  Among them, Thomas Lindauer was a big key.  He drove in two runs with a triple and eventually scored on a Justin Parr single.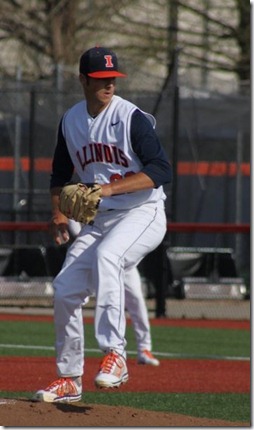 Kevin Johnson is now 5-1 in 2012
By then, it was 12-2 and a win for the Illini was a forgone conclusion.  Kevin Johnson was still on the mound and doing fine.  When he gave up his third run in the seventh though, Coach Hartleb decided to put reliever Anthony Milazzo out there in the eighth.  Milazzo hadn't given up any runs all year but tonight MVSU had his number.  It didn't help that Illinois defense wasn't working for him.  Milazzo gave up three runs (just one earned) in two innings. 
Regardless, Milazzo seems to be having a great year and this outing didn't make a difference.  Illinois won 15-6.   Johnson improves his won-loss record to 5-1.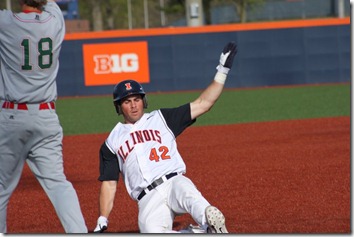 Willie Argo slides into third base with one of his triples
Lots of big offensive efforts today:
Thomas Lindauer  3 for 6, 2 triples, 2 runs, 2 rbis
Justin Parr  2 for 5, triple, 3 rbis, 2 runs.
Willie Argo 2 for 3, 2 triples, 2 runs
Bill Charvat  1 for 3, 3 rbis, run
Thomas Shelton  2 for 2, rbi, run
Reid Roper  2 for 4, 2 runs, rbi
Brandon Hohl 2 for 4, run
The list goes on.  And yes, you read right.  There were FIVE triples by the Illini today (an Illinois Field record!).  Also, I noticed in the FightingIllini.com series preview that our team is fourth in the nation in defensive double plays.  Well, we added two more today.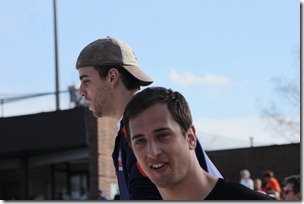 It was good to see a lot of old friends at the park today including parents of players and even former players.  I saw Pete Cappetta and Wes Braun (pictured above) as well as Casey McMurray. 
Check out the rest of my photos from today's game at my Illinois Baseball gallery. 
And if you didn't get out to the park for the home opener, don't fret, there are two more games left this weekend.  Saturday's game is at 1pm and Sunday's is at noon. 
Come on out!!
Related posts