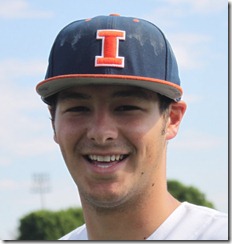 Raise a glass to Kevin Johnson… and to the fine Illini defense.  Today, the good guys defeated the St John's Red Storm 4-0 at the first day of the Coastal Carolina Invitational at Myrtle Beach, South Carolina.  With the win, Illinois reaches the .500 mark at 4-4. 
Johnson (right) pitched a superb game, no doubt about it.  He threw seven shutout innings spreading out seven hits and walking three for his first win of the year (interestingly, he didn't strike out any batters).  Big Ten, I hope Kevin Johnson is on already your short list for Pitcher of the Week! 
Ronnie Muck finished off St John's by pitching two perfect innings striking out two batters.  This gives Illinois its first shutout in 69 games. 
Defense played a big part in the Illinois victory today.  Illini glove men participated in no less than four double plays no doubt endearing them to Johnson.  And while the offense didn't score gobs of runs, they scored enough.  A key, in my opinion, is that they scored early.  A two-run first inning surely helped Johnson relax.  Thomas Lindauer, who had three hits on the game, was part of that two-run inning.  He led off the Illini first with a base hit.  Both he and Justin Parr scored when Jordan Parr drove home on a single. 
As good as the Illini defense was, the Red Storm's defense seemed to be a bit off.   That proved costly for St John's.  After Davis Hendrickson reached base on a bunt single, he advanced on a E-1.  He then scored on an error on a pickoff attempt.     In the seventh, Lindhauer hit a one-out double and then scored on a throwing error by the St J's right fielder during a Willie Argo base hit.
Here's the link to FightingIllini.com game recap including a video interview with Kevin Johnson.
This was the second win against St John's this year for the Illini.  No disrespect towards the Red Storm who are reputed to have a great team but I'm sure the Illini squad will miss them. 
Next up
Coastal Carolina Invitational action continues as Nick Chmielewski takes the mound versus Pittsburgh tomorrow at noon. 
The Illini have played Pitt once before.  Raise your hand if you remember the game.  I'm sure the Illinois veterans do.  It was the first game of the 2011 season at the Big Ten/BIG EAST Challenge.  Illinois held a 1-0 lead before Pitt exploded for 10 runs in the bottom of the fifth.  The Illini rallied for five in the seventh inning but it was too little too late. 
Maybe a little payback is in store. 
In other news…
It was just announced yesterday that former Illini pitcher Chris Pack has been signed by the Arizona Diamondbacks organization.  Pack pitched for the Illini last year and played for the Joliet Slammers in the 2011 season. 
Congrats, Chris! 
[edit] correction in title
Related posts
Filed under: Game Recaps on March 2nd, 2012 by: Thomas Nelshoppen