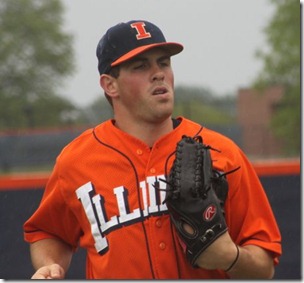 Five hits for Willie Argo on Saturday
A split wasn't in the cards against Gonzaga but the Illini found their bats and arms and won versus the Lamar Cardinals later in the afternoon at the YMBL Cardinal Classic in Beaumont, Texas today. 
Against Gonzaga, it was more of the same for the first six innings as the opposition pitching kept Illinois bats silent.  By the bottom the seventh, it was 7-0 Gonzaga.  The Illini did rally in the bottom of the inning.  A two-out Davis Hendrickson triple drove in two runs to make things interesting.  But interesting was all it was and Gonzaga held on to win 7-3.
Willie Argo was 3 for 4 for the game.  In relief, Matt Milroy allowed just two hits and pitched 3 1/3 innings of shutout ball. 
---
In the afternoon game against Lamar, Illinois did one thing they haven't done a lot of this year.  They got off to a quick start offensively.  On four hits and a Lamar error, they scored four runs in the top of the first inning. 
That was all they really needed but Brandon Hohl added one more in the fifth with a solo homer, his second of the year.  Lamar defense faltered once again in the top of the ninth.  A Lamar error combined with a walk and a Hohl single granted Illinois two more runs. 
Big boppers against Lamar:  Brandon Hohl who went 3 for 5 with a homer and 3 rbis, Jordan Parr who went 2 for 5 with 2 rbis and a run, and Willie Argo who went 2 for 5 with an rbi and a run scored.
Nick Chmielewski was good for 88 pitches and 4 1/3 innings.  Not enough for a win for Chm but he has to feel a whole lot better about this performance than last week's 1/3 of inning stint.  Remember, Chm, baby steps.
Luke Joyce and Ronnie Muck were phenomenal out of the pen.  Joyce, who got today's win, pitched 2 2/3 innings and Muck finished up with two innings.  Neither allowed a hit nor a run.  Final score Illinois 9 Lamar 2
By the way, Willie Argo had a fantastic day.  Between the two games, he was 5 for 9. 
Next Up
For his performance last Sunday, John Kravetz gets rewarded with another start.  He'll be taking on Lamar tomorrow at 11:00am. 
For those of you not lucky enough to be down in Texas, stop by the Fighting Illini's Live Blog.  Sports Information Director Ben Taylor does a great job with the play-by-play and us fans get to cheer the players on.  Between that and GameTracker, it's ALMOST like being there (well okay, but it's still pretty nifty).
Related posts
Filed under: Game Recaps on February 25th, 2012 by: Thomas Nelshoppen