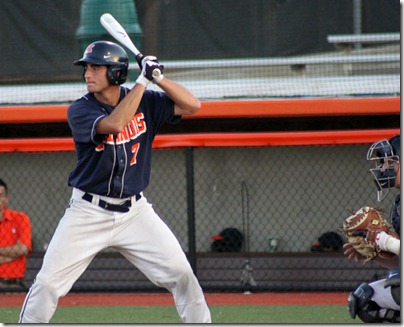 Reid Roper awaits a pitch during the last game of the Orange and Blue World Series
Today was the last game of Illinois Baseball's Orange and Blue World Series.  Having split the first two games, this was the rubber game and I'm sure competitive juices were flowing.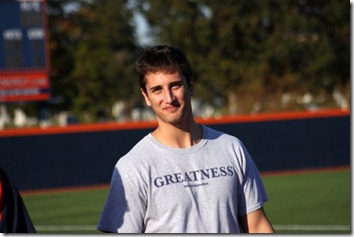 Among the fans who came by to watch today's matchup was 2011 senior and fan favorite, Pete Cappetta (above).  Pete is finishing up his accounting degree this semester.  He says he misses Illini baseball but is glad for the extra time to study.  Good man!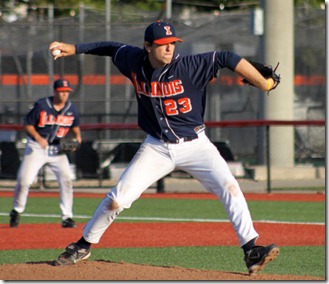 On the field, the Orange and Blue teams had two freshman righthanders going for them.  The Orange Team had 6'3" Josh Ferry from Lemont, IL going for them and the Blue Team had John Kravetz (above) from Lansing.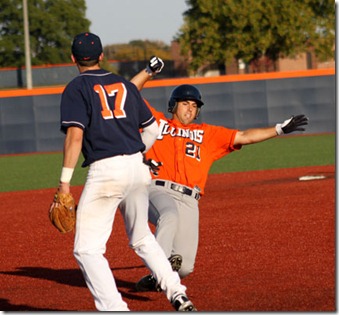 The Orange team really had the game in hand from the very start.  Bill Charvat who was playing first base, did his best to make his case for a starting position in 2012.  By my count, Charvat (above, sliding into third base) tallied three hits including a triple and a double.  The Orange Team staff led by Ferry, shut out the Blues for a good five innings.  If we had our scoring correct, Orange won 10-2 and took the series 2-1.
Extra pushups for the Blue Team, I guess.
Thanks to the Illini Baseball program for putting on the Orange and Blue World Series.  It gives us fans a good look at the new team!
Speaking of a good look, here are the photos from today.
Related posts