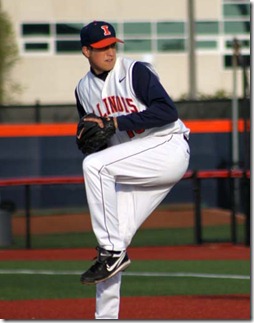 Lee Zerrusen put up four goose eggs for the Illini
Tonight, the Illinois baseball defeated Illinois College 7-0 behind a committee of pitchers led by Lee Zerrusen who pitched four scoreless innings.  Chris Pack got the win against the BlueBoys…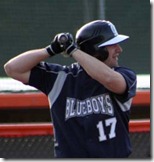 Wait, stop!  Blueboys? How did Illinois College get the nickname "BlueBoys"?  Turns out I inadvertently found out how from a good college friend who transferred from there before coming to the U of I.  I emailed him to do some good-natured trash talking before tonight's game and he enlightened me.  According to him, "BlueBoys" was a Civil War reference which in his words is a "reminder of how old the school is (by Midwestern standards)".  Another interesting piece of trivia:  Illinois College was the very first opponent of the University of Illinois baseball team back in 1879.  Thanks to my friend Robin who passed on that tidbit.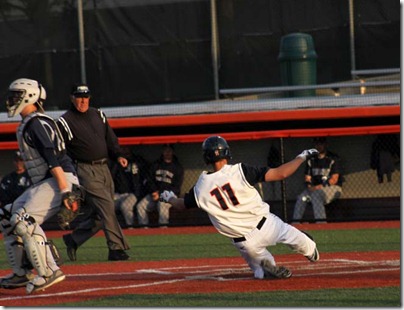 A triple wasn't good enough for Pete Cappetta
Now back to the game… which was pretty exciting even given the 7-0 score.  It was a pitchers' duel with goose eggs for five innings.  Casey McMurray nailed a BlueBoy runner at the plate to end their half of the sixth inning (I got a slightly blurry photo of Adam Davis making the tag).  Then with one out, Pete Cappetta favored us with a inside-the-park homerun to get the ball rolling for the Illini in the bottom of the sixth.  This was the third ITP homer this season for the Illini.  Adam Davis and Matt Dittman have both managed to motor around the bases for the rare feat this year.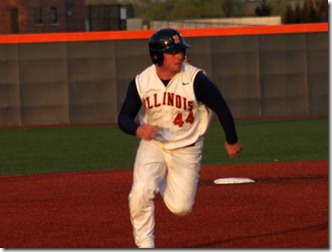 Casey McMurray rounds third to score in the seventh
Once Pete scored his solo feat, it pretty much opened the floodgates for the Illinois offense.  The next inning, the good guys scored five runs on five hits keyed by a triple by Davis Hendrickson and later, a double by Justin Parr (scoring his brother, Josh). 
Nineteen players got into tonight's game including five pitchers.  Good warm-up for the big weekend against Ohio State.
Glad we won tonight.  Our midweek record has been lacking.  I believe you have to go back to March for last Wednesday win before tonight. 
Don't forget, this Friday is Bleacher Bum Barbeque before the Ohio State game!  Tell your friends!!
Related posts