First things first, Wednesday's game against Bradley has been canceled.  Something about impending storms and flash floods.  The game will not be made up.
Last night's contest against our sister school U of I Springfield began perhaps a little shaky but it didn't take much time for the Illini to catch up and then out-slug the Prairie Stars 10-4.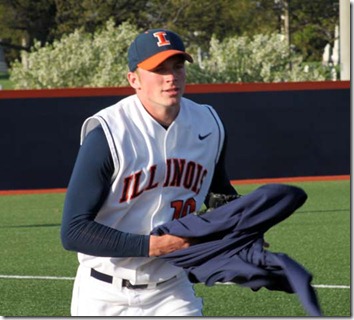 The Prairie Stars drew first blood in the second inning with a two run homer off Matt Milroy (above).  But that was all Milroy would give up for his five inning tenure during the game while striking out five.  That gave the Illini offense time to recoil and unleash their hitting attack which they most certainly did.  A five-run fifth inning rally sealed the Illinois win and a three-run seventh added icing on the cake.
Josh Parr drove in a career high four rbis including a two-run double in the seventh.  Adam Davis didn't start but that didn't mean he didn't get into the action.  Pinch hitting in the eighth inning, he hit a solo homerun, his second in so many games and fourth of the year.  Pete Cappetta continues to drive the ball.  He hit safely three times last night including a double, his fourth of the year.
And check out Ronnie Muck who got his first save of the season.
A few more photos here.
Random Ramblings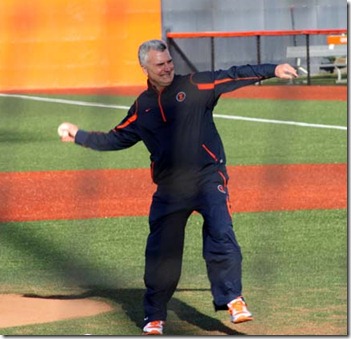 Coach Bruce Weber was a special guest at last night's baseball game along with a couple Illini basketball players.  Weber threw out the first pitch a little high.  Too used to shooting baskets, I guess.
I see the baseball program is beginning to hype the Bleacher Bum BBQ vs Ohio State on May 6.  It's becoming quite a tradition after only what, three years now?  Definitely, come if you can and pass the word.
Interesting stat of the day:  Pete Cappetta is hitting .268 for the year.  Not great but much better than the sub-.200 average he had when he came back to the lineup earlier this month.  Maybe one explanation… Cappetta is hitting .346 against Big Ten teams.
Pete just has the right priorities, I guess.
Next up
Illinois will take on the Northwestern Wildcats this coming weekend in Evanston.  Friday's game is an early one at 3:00pm.
Related posts