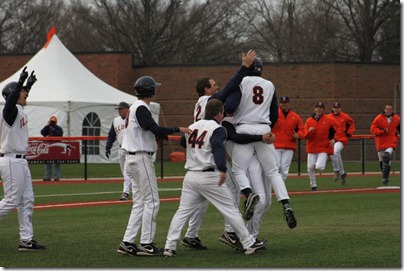 Pat Sheehan gets congratulated by his teammates for having a good eye
Wow, if the rest of Illinois baseball season is as exciting as today's home opener, the EMTs are going to have to stock up on chest paddles.  What a heart pounder!  In the bottom of the ninth, Illini DH Pat Sheehan walked with the bases loaded to put the winning run across and Illinois defeated Indiana State 7-6.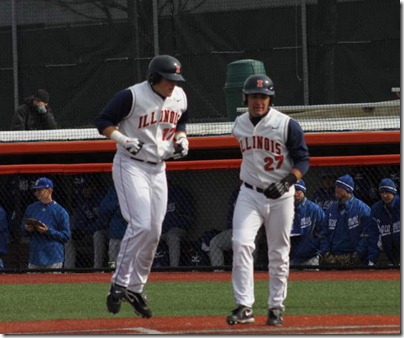 Dittman scores in the four-run third inning
It was back and forth all game.  The Sycamores scored in the top of the first but then the Illini bats got going.  They managed to get runners on second and third with only one out but couldn't execute.  The next inning was a different matter.  With two doubles from Willie Argo and Matt Dittman and a single from Brandon Hohl, the Illini plated four runs.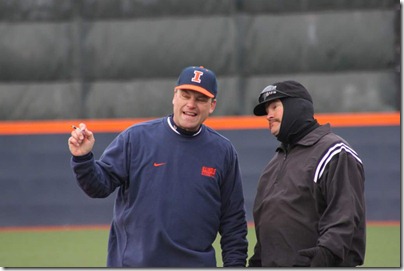 Coach Hartleb has a conversation with the umpire about job expectations
The game was far from over, though.  Indiana State scored two in the fifth and two more in the sixth and just one more in the seventh which put them ahead 6-4.  It wasn't till the eighth when Illinois drew blood again.  Last weekend's co-freshman of the week Thomas Lindauer showed it wasn't a fluke by getting a clutch rbi single driving in Davis Hendrickson who had the presence of mind to get in scoring position by stealing second.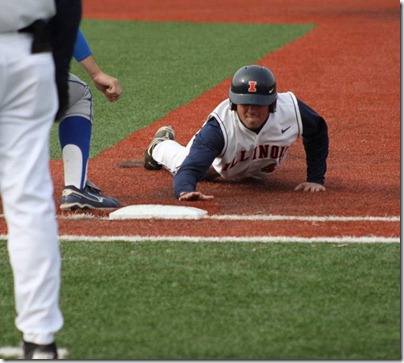 Sycamore pitchers kept Willie Argo close to the base
The ninth inning was just a nightmare for Sycamore pitching.  Three walks, a passed ball and a Matt Dittman rbi single.  It was Sheehan's walk that mattered the most, of course.  Walk-off walks aren't as sexy as walk-off homeruns but the Illini are just as happy with the results.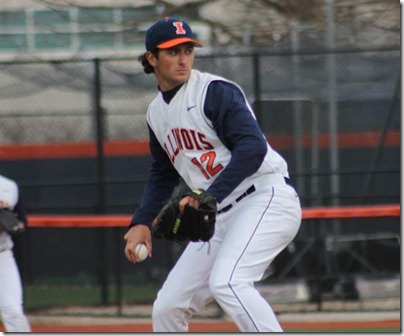 Chris Pack pitched four innings of relief for the win
Starter Kevin Johnson allowed three earned runs in five innings.  Chris Pack pitched the balance of the game, also gave up three runs and got the 'W'.
I have more photos in the photo gallery.
Saturday's game is set for 1pm.  I was hearing rumors of nasty weather but right now it looks like cold temps but possible sun by the afternoon.
Way to go, Illini!
Related posts