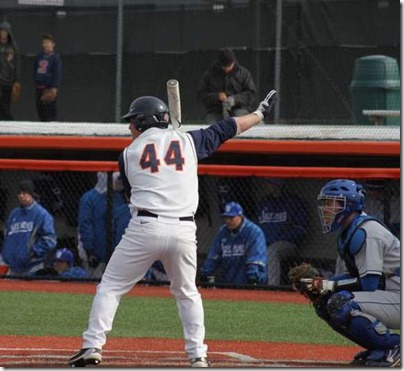 Casey McMurray is tied for the team lead in rbis with 13
Just a reminder, Wednesday's game against the Illinois State Redbirds has been moved up to 3:05pm.  I'll be there but maybe a little late.
The Redbirds have a decent team… there's no doubt.  Right now, they're second place in the tough Missouri Valley Conference. They are getting better as the season progresses.  They've won 13 of their last 16 games.
Illinois State Redbirds

March 30, 2011
3:05 pm ct
Illinois Field
Champaign, IL
Program website link
Record
15-6 (0-0 in the MVC)
Head Coach:
Tim Jamieson
Key Player:
Tyler McNeely (.359, 5 hr, 21 rbis)
Illinois State currently is 15-6 and there are a couple of good reasons for that.  Start with their pitching which sports a nifty 3.18 ERA.  Corey Maines who most likely we won't see, leads the squad with a 4-0 record and a 2.17 ERA.
Offensively, the Redbirds are just as formidable.  They've outscored their opponents by a 149-84 margin.  They have a deep lineup.  Four hitters have 15 or more rbis and seven are in double digits in runs scored.
Random Ramblings
I think I can say this with certainty… tomorrow's game will not be postponed or cancelled due to weather.  Wednesday's game time forecast shows a temp of 52 degrees and sunny.  Let's put this weather jinx behind us.
Let's go Illini!
Related posts
Filed under: Game Previews on March 29th, 2011 by: Thomas Nelshoppen