It seems like this Friday can't come soon enough.  All these weeks of following the Illinois baseball team as they play in strange and far away places will soon come to an end as we get to see the good guys on the green grass… *ahem* field turf of Illinois Field here in Champaign, Illinois.  This weekend's opponent are the Sycamores of Indiana State.
Forecasts show a high of 43 with showers.  So wear something warm.  It's a 3pm game time (for the moment… you know how these early season games go).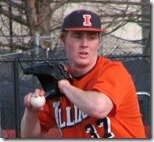 The Illini preview isn't out yet so it will be interesting to see who the starting pitchers will be this weekend.  My guess is that Coach Hartleb will go with the usual Johnson-Anderson-Kimes but it wouldn't surprise me either if Will Strack (left) was thrown in there somewhere considering his outstanding performance on Sunday.
Indiana State Sycamores

March 25, 2011
3:00 pm ct
March 26, 2011
1:00 pm ct
March 27, 2011
12:00 noon ct
Illinois Field
Champaign, IL
Program website link
Record
11-9 (7th in MVC)
Head Coach:
Rick Heller
Key Player:
Robby Ort (.358, 5 HR, 27 rbi)
Rick Heller is in his second year as head coach of the Sycamores.  Under Heller, the team went 35-19 in 2010 and he has the distinction of having the best record for a first year coach.  So it's safe to say they're happy with him so far.  This season, the team has come down to earth with a 11-9 record so far.  No doubt that's good but the Missouri Valley Conference is competitive so it's anyone's game.
Outfielder Robby Ort is the big threat with the bat.  He leads the team in homers, rbis and runs scored.  Colin Rea is a pitcher to watch as well.  He's 4-1 with a 3.89 ERA.  He can bring it, too.  He's got 31 strikeouts in 34 plus innings.
Random Ramblings
No word yet if there's a bus trip planned for St Louis when Illinois plays Missouri on March 29.  Once I hear anything, I'll post it.
One more thought:  somebody get Brian de la Torriente some innings so that 99.00 ERA can go down.
Let's go Illini!
Related posts