During this off-season, I thought I would occasionally take a look the former Illini who had played in the Major Leagues.  To take it a step further, why not post the all-time leaders among Illini alumni in particular stat categories?  It would give us a starting point for some discussion and perhaps some insight into which Illini made it big… in "the bigs".  And before we start, let me tell you there are 68 players and 27 pitchers listed from the University of Illinois (though I notice that Scott Speizio is listed as both).
Let's start with the dinger, the tater, the four-bagger, the ever popular homerun.
| | | | | |
| --- | --- | --- | --- | --- |
| | Former Illini | From | To | HR |
| 1. | Tom Haller | 1961 | 1972 | 134 |
| 2. | Darrin Fletcher | 1989 | 2002 | 124 |
| 3. | Scott Spiezio | 1996 | 2007 | 119 |
| 4. | Hoot Evers | 1941 | 1956 | 98 |
| 5. | Lou Boudreau | 1938 | 1952 | 68 |
Tom Haller was a steady and reliable (if not spectacular) catcher throughout the 60's.  He did manage to consistently hit homeruns in the double digits for most of the career which puts his 134 mark at #1 on our list.
For hard-core Illini baseball fans, Darrin Fletcher (right) is remembered as one of the all-time best offensive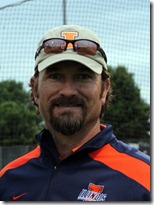 players.  If there's any doubt, check the record books… his name is mentioned all over the place.
Once he got to the majors, it took a few years to get going but once he had a nice stretch of seasons.  Playing for Montreal and Toronto, he hit in double figures in homers seven out of eight years between 1994-2001 with a career high of 20 in 2000.
Scott Spiezio is a recent one… his last season was with the St Louis Cardinals only three years ago.  Spiezio had a penchant for the playoffs with a total of 25 rbis in the postseason.  The versatile fielder did hit 119 homeruns in his career.  Trivia fact:  His dad Ed Spiezio who played in the majors in the 60s and 70s, also attended the University of Illinois.
Hoot Evers… now there's a name not everyone knows.  Yet, the outfielder put together a string of decent seasons with the Detroit Tigers when he hit 73 homers between 1947-1952.  Altogether, Evers played for 12 seasons and his 98 dingers puts him 4th all time on the Illini list.
Lou Boudreau did just about every else right (which got him in the Hall of Fame) but wasn't much of a power hitter.  He averaged under five homers a season.  He had a power surge in 1948 when he hit 18 and hit .355 and that was good enough to win the AL MVP.
All stats are courtesy of Baseball Reference.
Related posts