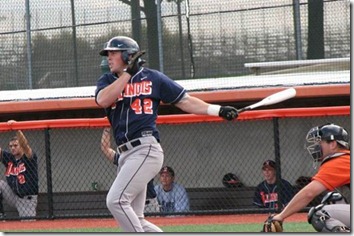 Willie Argo gets a hit in Game 2 of the 2009 Orange and Blue World Series
I found out just today that the dates for the Orange and Blue World Series have been scheduled.  The team plans to play on October 4-6.  No times have been given but weekday O&B games in the past have been played in the late afternoon. 
For those not in the know, the Orange and Blue World Series is an annual series played in the fall.  It's played by the Illini team split up into the Orange team and Blue team.
It's a good chance for the Illinois baseball fans to get to know the team that they will be seeing in the 2011 season.  It's especially handy to see the new guys, the freshman and transfers. 
So mark your calendars for October 4, 5 and 6.  If I get some definite times, I'll pass them on.
Update:  Word has it that games will start around 4:30… give or take a few minutes.
Other Stuff
If you've already seen my photos of the progress made on the new clubhouse addition at Illinois Field, you might also want to see the official pictures posted on the U of I Baseball site.
Also, I'm a little late with this but kudos to Corey Kimes for getting named to the list of Top 10 Prospects by Baseball America in the Prospect League.  Corey was 5-1 with a 2.64 ERA and allowed only 16 walks and 42 hits in 47 2/3 innings.
Congrats, Corey!
Related posts
Filed under: Off Season Happenings on September 23rd, 2010 by: Thomas Nelshoppen