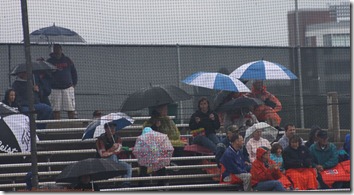 Despite the rain, almost 500 fans (and their umbrellas) showed up to watch the Illini
It was an off and on rainy day at Illinois Field for the Illini's last home Big Ten game.  Finishing off their series against Purdue, they hoped to win the rubber game and help their chances in the Tournament hunt but Purdue jumped out ahead early and Illinois never recovered.  Purdue won 6-1.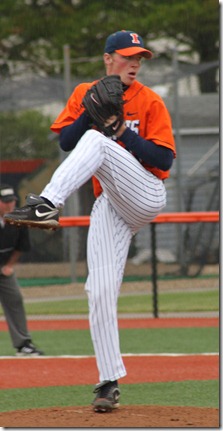 Illini starter Matt Milroy
Starter Matt Milroy and his reliever Kevin Manson just weren't on their game today.  Milroy only last for two innings and really only suffered one rally which culminated in a Nick Overmyer three-run homerun.  Manson also got the quick hook in the fifth after a two-run Ryan Bridges homer.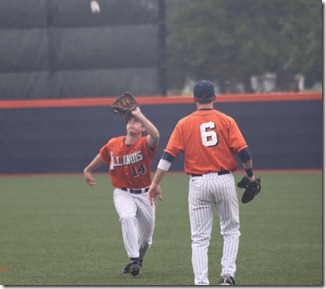 Christian Cummins hauls in a pop fly while Craig Lutes watches on
By that time, it was 5-0 and it didn't look like Boilermaker starter Drew Wurdak was about to give up anything to the good guys.  He gave up only five hits and just one run in 7 1/3 innings.  Interestingly, he did not strike out an Illini batter though.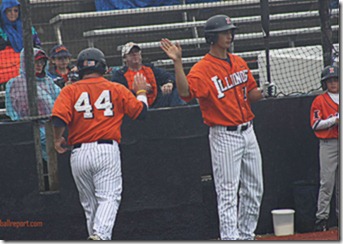 Casey McMurray high-fives Pete Cappetta after he scores Illinois' only run
Illinois did put a run on the board in the fifth.  After Casey McMurray doubled, Aaron Johnson drove him home with a single to left.  And though we had our chances in the 8th and 9th, nothing came of it.
Johnson was 2 for 3 with an rbi.  McMurray was 2 for 4 with a run.
Alas, Bryan Roberts pitched a fantastic 8th and 9th innings which would have made a perfect save, if only…
Argo Watch:  Willie Argo went oh for 5 today.  As they say, you can't steal first base.  Believe me, Willie would if he could.  He'll have to wait to tie/break Kyle Hudson's stolen base record.
More rainy photos in the photo gallery.
Next Up
Sad to say, there is only one more home game left, a non-conference game against Western Michigan on Tuesday.  Please note the unusual game time of 4:05pm.  Admission is free so be a big spender and invite all your friends to the ballpark.
Related posts