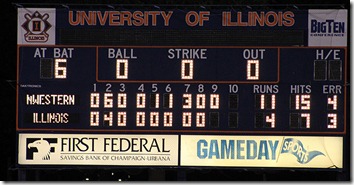 Not a pretty scoreboard
Well, the rains held off for tonight's game against Northwestern (and the Bleacher Bum Barbeque) but the wind did not.  There was a stiff gale blowing straight out to left field.  Before the game, a few of us figured this would be a definite slugfest between both Illinois and Northwestern.
Well, we were half right.
Northwestern certainly got their punches in against the Orange and Blue.  They scored 11 runs including a six-run second inning against Illini starter Lee Zerrusen.  The Wildcats hit two dingers in that inning which pretty much set the tone for the rest of the game.  Wildcat leadoff man knocked two homers for the game and Chris Lashmet  had one more (I need to stop naming a "key player" in my weekend previews… they always seem to fulfill the prophesy).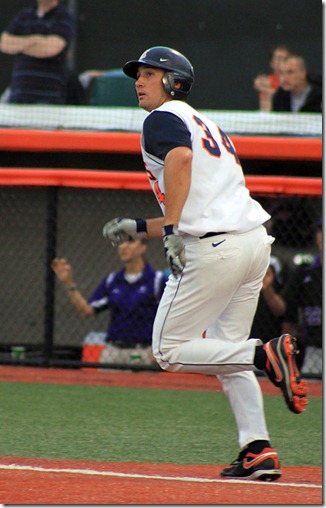 Mike Giller hits his second homerun in two games
After giving up those six runs, Illinois did make it a bit interesting by mounting a threat of their own in the run second inning.  Between capitalizing on some sloppy Wildcat defense and a two-run Mike Giller homerun, Illinois managed to put four runs on the board.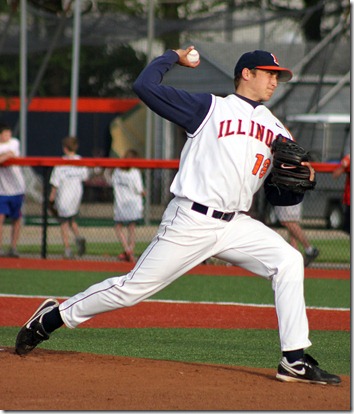 Lee Zerrusen:  Rough second inning
Unfortunately, those were the only runs Illinois would score for the game.  Northwestern hurler Francis Brooke held the Illini scoreless for the remainder of the game.  Zerrusen settled down some after the second inning and pitched two scoreless innings before giving up one each in the fifth and sixth.  Northwestern added insult to injury with a three-run seventh inning.  Final score:  Northwestern 11 Illinois 4.
| | |
| --- | --- |
| | |
| Josh Parr | Craig Lutes |
Aside from Giller, Josh Parr had a good day at the plate.  He got his first three-hit game since coming to Illinois.  One of those hits was a hustlin' triple.
Craig Lutes came through with two hits and played some excellent defense in right field.
Willie Argo Steal Count:  add two more… Willie's at 30 now.
Here are the rest of the photos from the game.
Game Two is Saturday at 3:05pm.
Let's go Illini!!
Related posts