It was a rather disappointing weekend for the Illini who won just one against Iowa.  A sweep wasn't out of the question for me.  The offense only generated six runs in the last two games and generally in college games that's not enough.  Ironically, the one game when Illinois gave up the most runs, eight on Friday, we won.  Even more ironic, Illinois scored six runs (five earned) off Iowa uber-ace Jarred Hippen that night. 
THAT game, the Illini had plenty of offense including a 3 run rally to comeback against the Hawkeyes.  Once again, Bryan Roberts came through as the closer pitching two solid innings allowing no hits.  Roberts also pitched 1 1/3 scoreless innings in today's losing cause.
As a side note, it's hard to believe that the Illini bullpen was considered the Achilles heel of the team at the beginning of the year.  The top three in ERA are members of the relievers staff (Kevin Manson 2.70, Mike Sterk 3.21 and Bryan Roberts 3.77).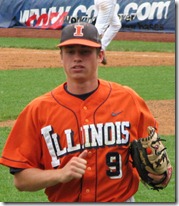 Looking at the positive side of things, I'm glad to see that Josh Parr is picking it up.  He had a rough game in St Louis against the University of Missouri in the field and it's good to see him produce with the bat.  While I see Parr (right) had an error on Friday (his only one for the weekend), no one can complain about his bat.  He went 5 for 11 this past weekend with 4 runs and 3 rbis.  Just as Pete Cappetta had his rough stretch and came out of it, I expect Josh will continue to do the same. 
Random Ramblings
I probably shouldn't be so stat-centric when it comes to the team but I can't help it.  Check out Casey McMurray's numbers.  He now leads the team in hitting with a .398 average.  Never a power guy in past seasons, he's found his stroke and has 4 homers and 14 extra base hits both good for the team lead. 
Former Illini starter Scott Shaw had his first start with the Binghamton Mets yesterday.  Unfortunately, it was a pretty rough one and Shaw got rocked against the Akron Aeros.  Never fear, Shaw had a great 2009 so I expect him to recover from that.
If you haven't seen IlliniHQ.com's photos from the Battle at Busch, check them out.  They have some really good ones.  The News-Gazette had a nice spread of these photos from last Wednesday in Sunday's paper.  I love it when the team gets a lot of press.  Sometimes, it's hard to come by.
Next up
Midweek bring two teams which our guys might be looking for redemption and/or revenge.
On Tuesday, the Illini host Eastern Illinois University. They're traditionally a tough team.  Last year we took it on the chin and lost 5-1 against the Panthers.  I'm hoping for some revenge.  Gametime is 6:05pm.
Illinois then take on Coach Hartleb's alma mater, Southern Illinois.  The game will be played at Rent One Park at Marion, Illinois, home of the Southern Illinois Miners of the Frontier League.  This will be the first of two meetings with the Salukis.  Gametime is 6:30pm.
Go Illini!!
Related posts