Shortstop Josh Parr ponders the scoreboard in the seventh inning
Can we just forget about Friday night?
Friday's night's game against Michigan was over pretty much before we knew it.  I had to feel for anyone who came a few innings late to the game.  When they walked in and saw the 15-0 lead Michigan already had after only three innings, you can't blame them for being a tad disheartened.  But I'll give the Illini faithful credit.  Many of the 769 fans stuck it out till the end.  It didn't get much better though as Michigan won 17-1.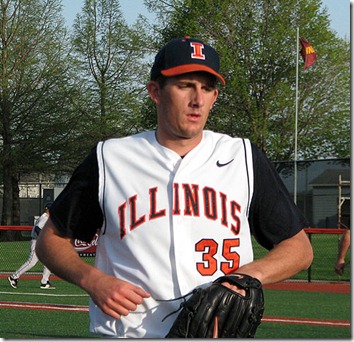 Kevin Manson was perfect vs EIU on Tuesday.  Against Michigan… not so much.
I won't belabor the point but starter Kevin Manson did not have his best stuff (7 runs and 7 hits in 1 inning).  Neither did Will Strack who took over for Manson in the second (4 runs on 2 hits in one inning).  John Anderson who took the mound in the 3rd, didn't start out much better giving up two walks, a single and eventually a homerun to Mike Dufek but Hartleb stuck with him.  It was sound strategy as Anderson settled down and found his groove.  He pitched three scoreless innings after that and only allowed two Michigan runs after that.  Wes Braun pitched a scoreless ninth.
In fact, after the third inning, it looked like a totally different ballgame.  We got good pitching from Anderson and Braun.  Our defense was superb.  There were some fantastic plays made out there by the good guys.  Josh Parr, Craig Lutes and Brandon Hohl displayed some great glovework.
Michigan batted around in the order twice in the game… in the second and the third innings. Michigan's Dufek was the master with the stick.  He got four hits including the homerun.  He drove in four and scored three.
For the Illini, our sole run came in the sixth inning.  Aaron Johnson gave the fans something to cheer about and cranked a solo shot to center which at least prevented a shutout.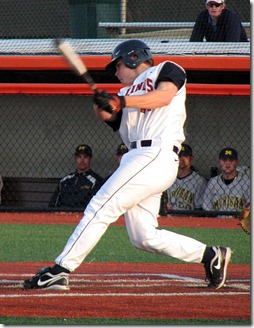 Cummins gets two hits on the night
One more note, Christian Cummins started at second last night.  It was a bit of musical chairs in our lineup with Pete Cappetta going to left and Casey McMurray taking on the DH role.  Long story short, Cummins responded by getting 2 hits in four at-bats.
I have more of my photos posted if you're interested.
And if you can bear to watch it, Big Ten Network has a highlight video of Friday night's game.
Today's another day, though and at 3:05 the scoreboard is reset at 0-0.
Random Ramblings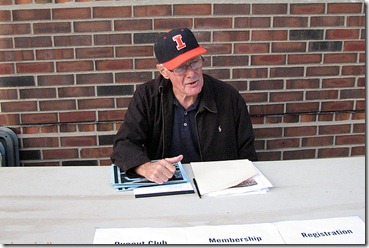 I got a chance to talk to John Santas last night.  Santas (above) is one of driving forces behind the Dugout Club, the organization that supports and promotes the baseball program.
I've chatted with Santas in the past.  He and his cronies will sit behind home plate and cheer the Illini on from their close vantage point.  I like his style.  He's an old school baseball fan who knows his baseball history.  Before each game, he will trot down to the bullpen and check on how the starter is feeling for the upcoming game.
Last night, Santas was helping promote the Dugout Club so he and I talked a bit.  If anyone is interested in finding out more about the Dugout Club, you can find out more at their webpage.
Ok, Illini… now it's OUR turn!
Related posts