Willie Argo reached a milestone and Kevin Manson pitched three masterful innings last night as Illinois defeated the Eastern Illinois Panthers 10-1.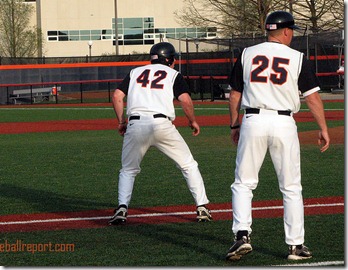 Willie Argo takes a lead off third
We all knew Willie Argo was good but last night, he got his 100th hit against the Panthers.  According to the record books, he ties with Andy Shutztenhofer for reaching the century mark in the quickest time.  It only took 269 at-bats.  For the night, Argo was 2 for 3 with four (yes, four) stolen bases.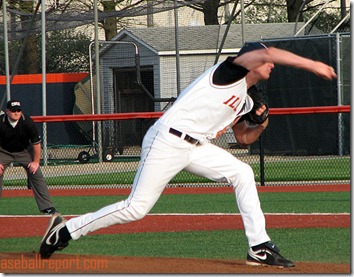 Manson was on his game against EIU
Kevin Manson got the call to start last night.  I don't think I've seen anyone pitch so well as I did Manson. He was Mr Efficient.  For those three innings, Manson only pitched one ball.  For the three innings, he only threw 17 pitches.  Pretty amazing in my book.
For the record, Manson allowed no runs on one hit.  He definitely earned his second win of the year.
Fantastic work by the bullpen, too.  Between Brian de la Torriente, Will Strack, John Anderson and Tanner Libby, they gave up just one run in six innings.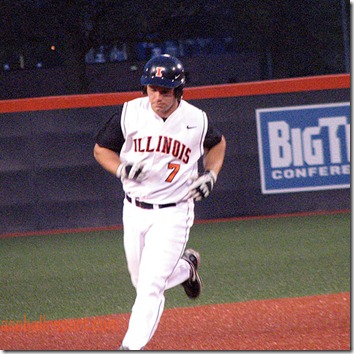 Johnson would rather have the homerun instead of the HBP anyway, thank you
Aaron Johnson provided some excitement last night as well.  Johnson, who was hit by the pitch in the third inning, came to the plate in fifth.  He was hit AGAIN.  But this time, the ump called him back apparently indicating that Johnson didn't make a move to get out of the way.  He had the last word though.  Two pitches later, Johnson lined it over the left center wall for a two-run homerun.  Heh, don't toy with Aaron, I guess.
Josh Parr continues to hit.  He got two hits and two runs plus an rbi including a double.  I really see Parr coming out of his slump.
More photos at the photo gallery.
Random Ramblings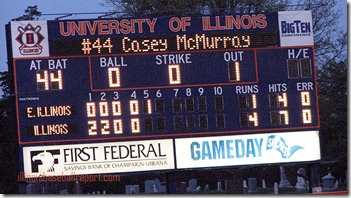 I was happy to see that those in charge are putting the names of the players up on the scoreboard as they are up to bat.  They haven't been until last night.  It's nice for the casual Illini fan to learn the home team and for some of us, to keep up with the opposition.
Great job, Illini!
Related posts