It was close for a while but Michigan's offense caught up to Illinois pitching on Sunday and the Wolverines defeated the Illini 11-4.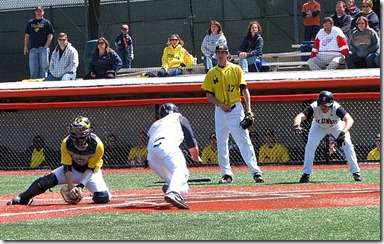 Mike Giller slides in to score ahead of Casey McMurray
Michigan scored one run in each of the first three innings to take a 3-0 lead but Illinois mounted an exciting rally in the third.  With two outs and runners on first and second, the Illini managed to bring home three runs.  That was in thanks to three hits by Brandon Hohl, Craig Lutes and Pete Cappetta and a couple of hit by pitches plus a Michigan error.
It was goose eggs until the seventh when the Michigan offense kicked in.  After an error and a single, starter Lee Zerrusen was yanked.  Unfortunately, the bullpen didn't do much better.  Five hits and six runs later, Michigan had a 9-3 lead.
Meanwhile, the Illini offense was being stifled by Michigan pitching.  They were led by Tyler Burgoon who went 5 1/3 innings and didn't give up a run.  Burgoon got the win for the game.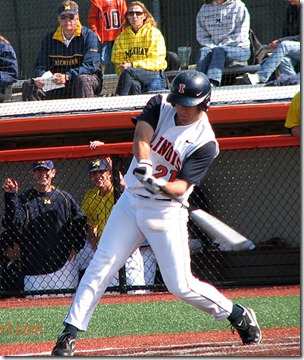 Bill Charvat manages a ninth inning rbi
Michigan did score two more in the ninth and Illinois plated a run on a Bill Charvat rbi ground out.  But Illini just didn't weren't able to rally.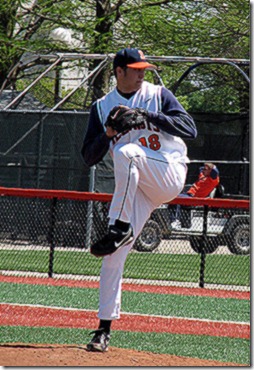 Zerrusen brings it in the first inning
Starter Lee Zerrusen wasn't perfect by any means but he didn't pitch badly either.  He allowed three runs on five hits in six plus innings.  His main issue was control.  He allowed five walks.
Two hits for Aaron Johnson and Craig Lutes who both remain hot.
Let's face it.  In any year, Michigan is tough.  I'm not going to add up their stats for the weekend but Ryan LaMarre and Chris Berset came highly touted and they didn't disappoint the visitor fans.  And at least on Friday and Sunday, the pitching was good enough to support that kind of hitting.  I'm giving kudos where kudos are due.  Great job by the Michigan team.
I'm just glad the Illini gave us an exciting show on Saturday.
Random Ramblings
Eight errors in today's game, five by the Illini.  Five total wild pitches (two by the good guys).  One catcher's interference.  And one rally killing pick-off.  Not naming names.  Just thought that needed to be said.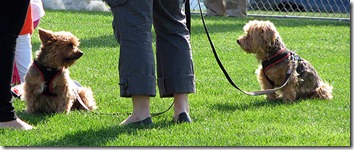 Today was Dog Day.  Plenty of dogs at Illinois Field but only one dog fight to speak of.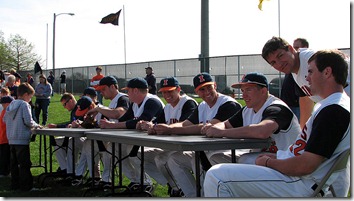 After the game, the sophomore players lined up behind tables in the grassy area so they could sign autographs for the kiddos.  As I left, it was quite a line waiting for their chance to get the John Hancock's from the players.  I'm glad that the players do this kind of thing.
Get 'em next time, Illini!
Related posts