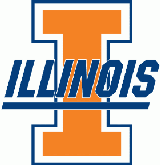 Ok, considering we came into the weekend 1-5, we had a pretty darn good weekend. 
On a broader scale, we went 2-2 for the weekend which is a whole lot better than the ultimate result we had been getting.  Not to mention the exciting win against #12 Coastal Carolina Chants.  Maybe it doesn't it doesn't rank up there with beating LSU last year but it shows that this year's team can win and win big.  But the big question is why. 
One, our bullpen is showing flashes of brilliance.  For the weekend, they had an ERA 4.02.  Not perfect but definitely an improvement over the early season.  Mike Sterk, Kevin Manson and Bryan Roberts had especially good preferences as did Wes Braun. 
Two, the coaching staff made a change that I've been secretly hoping they would make.  They put Lee Zerrusen in the starting role.  Lee responded by winning the game against Ball State.  Hopefully, his seven inning, three run performance is typical of him and we'll see more of him. 
And three, the offense just plain scored runs.  Win or lose this weekend, Illinois hit the ball and put runners over the plate.  In all four games, the Illini averaged almost eight runs per game.  Up until this weekend, they averaged 5.5 runs per game. 
What is exciting to me is seeing some players really develop from past seasons and start hitting the ball this season.  I've already talked about Matt Dittman ad nauseum.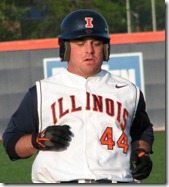 Last year, he hit .278.  He's up to .563 now.  Valued DH/LF Casey McMurray (left)is hitting 100 points over last year's mark.  And it was nice to see Craig Lutes crack his first homerun since his sophomore year.  His batting average has gone up significantly as well.  Out of the bullpen, senior Mike Sterk, who only made six appearances last year, has really been a force to be reckoned now.  We've seen him four times already and he's sporting a decent 3.68 ERA.  Sterk has had a part in two of the Illini's three wins with one win and one save.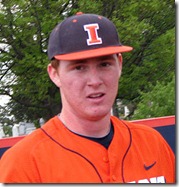 Before I finish this back-slapping, I can't ignore Friday starter Will Strack (right).  Strack has  quietly done his job quite admirably.  His 1.96 ERA and .197 opponents batting average is tops on the team.  That isn't a surprise to me.  I saw that in him last year as a freshman.
Next up
Coming up, the Illini players will forego their spring break and travel down to Winter Haven, Florida.  They'll be playing six games in seven days.  That part will be rough on the guys, I'm sure but no ranked teams are in the mix for better or worse. 
For those counting, sixteen days till the opening homestand against Chicago State. 
Update from the Pros
I heard from Mike Altobelli, former 3B Dominic Altobelli's father.  He gave me an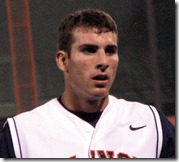 update on Dom (right). 
"Now that Dominic is playing Pro Ball we  know how important his time at U of I was. Dom spent two weeks in Naples Florida with Joey  Bonadona( Texas Rangers), Dino Anna( San Diego Padres) Brian & DJ Wabick( Houston Astros & NY Mets).  They worked out every day and conditioned they way they were trained at Illinois.  This was a good move on there part because if you go to spring training early you don't get enough reps in the field or at bats. 

Dom is in Tucson now and has begun his Spring Training with the Rockies. They are staying at the Sheraton in Tucson and he said the complex is awesome! 6 fields right next to the big league club. Lars Davis is with him.  How cool is that!!  He said its kinda crazy in the locker room.. 180 ballplayers all over the place! They should be splitting up by next week and start playing games soon."
Mike said he misses the University of Illinois baseball program and reiterated his kind words for the coaching staff here.  I personally have a soft spot for Mike Alto.  It was fun to talk to him at the ballpark and he and his wife were nice enough to give me a ride to Columbus for the Big Ten Tournament last year.  Good luck to Dom!!
Go Illini!
Related posts
Filed under: Analysis on March 15th, 2010 by: Thomas Nelshoppen