Last weekend along with my friend Shawn, I took part in the Kiwanis Sports Trivia Championship.  I could go into details but long story short, we could have done better.  But here's the kicker… there was one Illinois Baseball trivia question asked all day…
…and I missed it.
Here's the question:  "Who's is the one Illinois baseball player to have his uniform number retired by the University?"
Their were four choices:  Lou Boudreau, Darrin Fletcher, and quite honestly, I forgot the the other two choices. 
It was a tough choice but I went with Fletcher who was an absolute monster while he was here at the U of I.  A couple years ago, the News-Gazette's Jeff Huth called Fletcher "the  greatest hitter in Illini history".  An '87 graduate, Fletcher's name still litters the Illinois Baseball record book more than 20 years later. 
He had the highest career batting average of any Illini baseball player.  He hit at an amazing .392 clip.  His senior season certainly contributed to that mark.  That is the season he hit .497 which is the highest single season batting average.  The list continues.  He is second in career rbis (199), fifth in career homeruns (38), and his 1987 season total of 147 total bases ranks sixth all-time.  All while playing a demanding position behind the plate. 
So I picked Fletcher.  Wrong choice.  The correct answer would have been Boudreau.  Mr Boudreau had his number retired in 1992.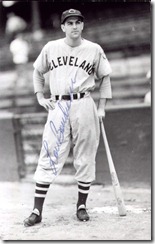 I know a fair amount about Lou Boudreau as a major league ballplayer but quite honestly, I was a little ignorant about his time here at the University of Illinois.  So for  penance for my little transgression, I would make up for it by looking it up and learning a little about it.
 FightingIllini.com has Lou Boudreau's obituary written back in 2001  from an Illini point of view.  There's even a photo of Lou at his uniform retirement ceremony.
Facts about Lou Boudreau and his time at the University of Illinois:
Competed at Illinois in 1937-38
While he played baseball, of course, some say his better sport was basketball.
He helped lead Illinois basketball team to the Big Ten title in 1937 and was named team captain in 1938.
He hit .347 his sophomore year with 25 hits.
During that sophomore year in 1937, he helped the Illini baseball team to the Big Ten championship
According to SABR, Boudreau probably hit around .270-.285 for his career at the University of Illinois.
While at Illinois, he worked out with the Cubs but turned down their offer when they offered him a contract. 
Statistics and facts are hard to come by when we're talking about players in a time so long ago and a level not always covered adequately (i.e. college).  As a matter of fact, different websites (reputable ones) were making diametrically opposite statements.  Your mileage may vary. 
So Lou Boudreau, if you're looking down at me, please forgive my mistake last weekend.  It won't happen again.  But let's face it, Darrin Fletcher was a hell of hitter.
Related posts