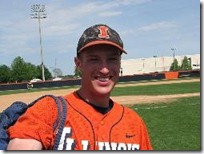 There's a first time for everything and no one knows that more than former Illini infielder Shawn Roof.  Last night in the very last game of the Erie Seawolves' regular season, Roof hit his very first home run in professional and college play.  His homerun came against the Akron Aeros in the 2nd inning.  Unfortunately, his Seawolves couldn't pull off a win despite his homerun.  The Aeros won 9-3.
The speedy and versatile Roof obviously has many talents but the homerun has long eluded him.  He accumulated 547 at-bats for Illinois and nary a one ended up with a hit over the fences.  And up until last night, 643 minor league at-bats went by without a dinger. 
Roof's 3 for 4 performance last night brought his batting average up to .261 in AA ball.  The Seawolves ended the season 71-70. 
Nice going, Shawn!  How about two next year??
Related posts