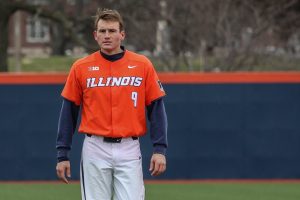 Yes incredibly, Bren Spillane was named the Big Ten Player of Week AGAIN. This is the third week in a row, Spillane has been honored with the award.
Maybe it's not so incredible. In the past week, Spillane went 8 for 11 with five homeruns, seven rbis, and nine runs scored.
Not only has Spillane continued his B1G POY streak but this is the fifth conference Player of the Week owned by an Illini.
March 6th: Michael Massey, Jr.
March 12th: Doran Turchin, Jr.
March 19th: Bren Spillane, Jr.
March 26th: Bren Spillane, Jr.
April 2nd: Bren Spillane, Jr.
The Illini streak goes back to the beginning of March.
It doesn't stop there…
There's more. Spillane, who reached base four times in all four games, also was named as a Collegiate Baseball Newspaper National Player of the Week.
It is the second week in a row, he has been honored with this award.
Congratulations (again) to Bren Spillane!
Related posts