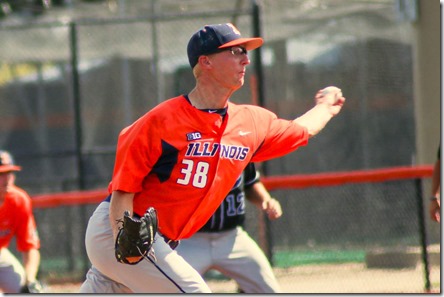 I'm sure it's been a hectic few days for the Illini baseball program.
Due to cancelled flights, the scheduled opening weekend games in Beaumont, Texas just aren't going to happen. Fortunately with a little collaboration, Illinois will play this weekend thanks to the help of host St. Louis University.
Hey @StLouisIllini, we're coming your way.#Illini to open 2018 in St. Louis on Saturday. We'll play three games in two days against South Dakota State and Austin Peay.

More info » https://t.co/7lLFmhqj64 pic.twitter.com/dwSjxE64qv

— Illini Baseball (@IlliniBaseball) February 16, 2018
The principals in the matter are South Dakota State University and Austin Peay.
Saturday, February 17
11am CDT SDSU
Sunday, February 18
11am CDT SDSU
3pm CDT Austin Peay
We now know the starting pitchers of the three games for the Illinois squad. As suspected, Ty Weber (2-7, 5.51 ERA) and Cyrillo Watson (3-4, 6.26 ERA) will take a turn on the mound.
In addition, lefty Andy Fisher gets a nod. Fisher is a transfer junior from Bowling Green and nearby Eastern Illinois.
We Illinois fans get one more day before enjoying Illinois baseball. It can't come too soon!!
Related posts