[UPDATE] Schedule change: Keep your eye on FightingIllini.com for pending changes.
Hot Stove Banquet completed? Check.
Pre-season practice? Check.
Promotional schedule in place? Check.
Fightingillini.com pre-season previews? Check.
What's left than to go out and win some ballgames, am I right? Sure enough, this Friday starts the 2018 Fighting Illini baseball season. Illinois will be traveling to Beaumont, Texas, home of Lamar University.
The Lamar Cardinals have become a big part of the early season for the Illini. They have played in Beaumont for three of the last four seasons (with mixed results).
The team that was so young last year have achieved one year's worth of experience. What you saw last year can only can better. Now, we can see what an off-season's work can do.
Let's see how good this Illinois baseball team really is! Let's look at the first weekend!
Beaumont, Texas

Friday February 16

6:00 pm CT

vs

W-L: 35-19 SouthLand 20-10

Saturday February 17

1:00 pm CT

vs

W-L: 20-34 SAC 14-10

Sunday February 18

10:00 am CT

vs

W-L: 43-20 MVC 18-1
What will happen in Beaumont?
None of Illini's three opposing teams are in the current college baseball polls but that doesn't mean any are an easy target. Coach Hartleb, as always, has scheduled some tough early games for a reason. Lamar has been consistently good throughout the years and starts out the year coming off a 20-10 conference record in 2017.
The Bears of Missouri State had a phenomenal season in 2017 going 18-1 in the Missouri Valley Conference. That was good for a conference championship. For those not familiar with the MVC, you'll find teams like Southern Illinois, Indiana State and other favorite Illinois opponents.
My favorite Texas Southern stat from 2017?? It's their 6-24 non-conference record. They did manage to eke out a winning record in the SAC (14-10) so anything can happen.
Follow along!
Whatever does happen in Beaumont, you can follow it even if you're like me and can't make the trip to Texas. Make sure to follow the game stats with this link.
There are audio links for each game as well on the schedule page.
Random Ramblings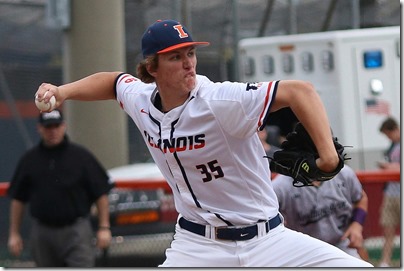 The DIA has been busy posting reviews touting the skills of the team lately. Start with today's Infielders Preview. The big questions? Who will play third base and who will fill the role of backstop? Fortunately, it's not a case of lack a talent. On the other hand, it's a question of who will win the job.
Don't miss the Pitchers Preview. As I alluded to in my article last week, Illinois points to the returning pitchers this year:
83% of last year's wins and 76% of innings return to the Illini.
It does look like Ty Weber and Cy Weber will be making their returns to the rotation this season. Sean Leland looks to be the one to beat for the third spot. Joey Gerber will continue on as the closer. Gerber is recognized by D1Baseball.com as a top 10 pick this coming year.
Hey all you down in Texas, root extra hard for all of us in Illinois!
Related posts