Happy New Year! With 2018 already in its second week, here comes a new look for the Illinois Baseball Report!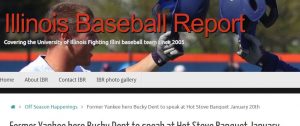 With a little over a month before the Illinois baseball season starts on February 16, it was time to update the overall look of IBR's website. Go ahead and browse to our front page of Illinois Baseball Report and see what I mean. We have slightly magazine feel to the front page while incorporating sliders at the top for the most recent posts.
The new design is a little more modern and remains mobile-friendly.
Also, don't forget to visit IBR's Photo Gallery! Here is the link to the entire gallery. You will find photos from 2017-2018 season will be placed here. I've already got it started by adding some photos from Fall 2017 games.
Here in Champaign-Urbana, students are slowly beginning to return back to the University of Illinois campus. It won't be long before the annual Hot Stove Banquet and before you know it, the team will be headed south to Texas for their opening game.
Players, play hard and study hard this semester! Fans, I'll see you at the ballpark!
Related posts