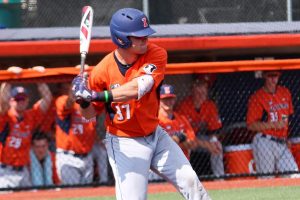 Last Saturday was our first official glance at the Illinois baseball team as they entered the short exhibition fall season. They hosted sister campus team of University of Illinois-Springfield Prairie Stars.
If this was any indication, the new Illini know how to score. In the official nine inning game, the Fighting Illini outscored the Prairie Stars 13-6 thanks to big games by Tyler Engel and Zac Taylor (above). Engel, who backed up Ben Troike at shortstop last year, went 3 for 4 with a double and a homer and drove in three runs while playing second base. Leadoff man Taylor drove home three runs on three hits while scoring two of his own.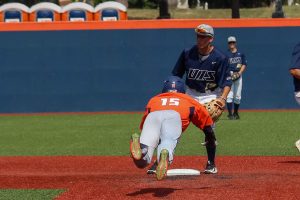 David Craan got things going in the second with a two-run triple. That's him above safely stealing second base. Casey Dodge and Ben Troike both collected two hits and junior transfer Michael Michalak The game was tight for the first four and half innings. By then, it was 5-4 Illinois. It was in the bottom of the fifth when Illinois erupted for seven runs.
The game didn't quite end there. My friend Robin McElwee who is an excellent photographer told me that the game was extended to 14 innings (unfortunately, I had to leave early to photograph my daughter who was singing at a public function). Robin took this photo for posterity…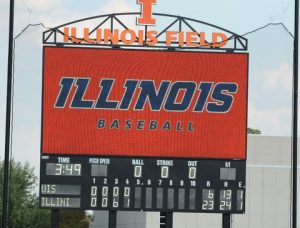 Illinois scored 23 runs on 24 hits and defeated UIS 23-6 for the entire 14-inning game.
Here's another by Robin of Bren Splillane. Both photos used with permission.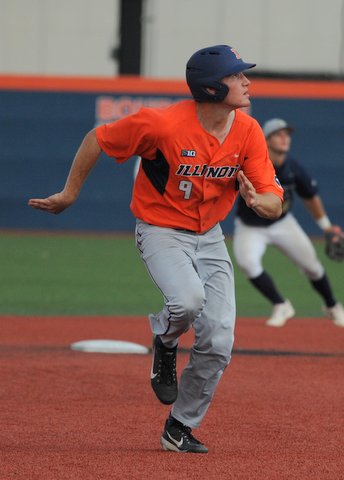 Don't forget, there is another game this weekend. This Saturday, Illinois is hosting the Indiana State Sycamores at 12:15pm. Starting September 27, the annual intrasquad Orange and Blue World Series begins.
See you at the ballpark!
Related posts