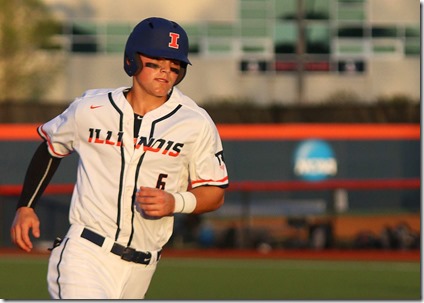 To think at the beginning of the season, I was unsure of Illinois' situation at second base.  With the departure of Michael Hurwitz last year and no heir apparent, it seemed like a hole that needed filling. 
Well, Michael Massey has filled that hole admirably.  With six hits during Illinois' double header against Minnesota, Massey extended his hitting streak to 13.  Not only that, he's starting another kind of streak.  He was honored with the Big Ten Freshman of the Week award for the second week in a row.  With a 10 for 19 performance with four runs and three rbis, he has become the first Illini to win the award in successive weeks. 
The timing was perfect.  Massey's big bat came in handy against the Golden Gophers on Saturday when the Illini swept the doubleheader giving the good guys the series win.  Combined, the Illini scored 23 runs on the day.
Michael Massey wasn't the only Illini swinging a slick willow.  Saturday, Jack Yalowitz homered in both games.  He drove home eight runs combined going 5 for 11.  Bren Spillane hit a grand slam in Game 2 and had five rbis on the day.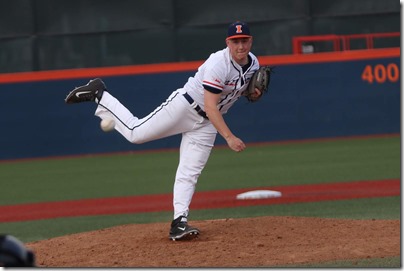 Some Illinois hurlers had a good day on Saturday too.  In game 1, Cyrillo Watson spread out six hits over 4 2/3 innings for just one run.  Ryan Schmitt (above) got the win and if you can believe it, he is the team leader with a 4-1 record. 
It's hard to believe but Matt James got his first win.  In game 2, he only game up one run in six frames.  The bullpen of Ryan Thompson, Zak Devermann, and Joey Gerber was this close to perfect giving up only one hit in 3 innings.  With a 14-run lead, Gerber doesn't get a save, sorry. 
Next up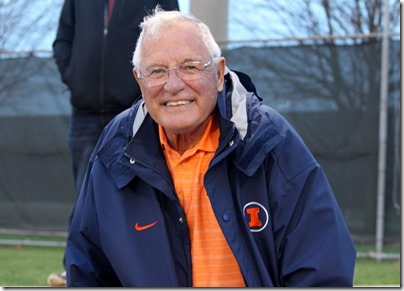 Illinois takes on rival Southern Illinois at Itchy Jones Field on Tuesday.  I hope the Illini players know the significance of that name.  Before Dan Hartleb, there was Coach Itch Jones (above) who eventually coach at Illinois and became one of the winningest coaches of all time.  You can still see him in attendance at Illinois baseball games. 
This weekend, Illinois entertains Maryland at Illinois Field for three games.
Related posts