Mark Skonieczny bares his teeth as he legs out a triple
Baseball is great.  Winning is even better. 
After starting the season 6-16, Illinois baseball is starting to find its groove.  In their last twelve games, they won nine.  That includes a 2-1 series win over Northwestern last weekend and lopsided 13-3 victory over Western Michigan during our midweek game on Tuesday.
Having concluded their long homestand, Illinois will take to the road for eight games.  This Friday, they face the Purdue Boilermakers (19-18, 6-6 Big Ten) in West Lafayette.  Friday's game begins at 5pm. 
Stats of note
Illinois 38 team HR (2nd in Big Ten)

Jack Yalowitz .367 batting average (5th)

Pat McInerney 11 HR (2nd)
Fighting Illini weekend preview
Pitcher probables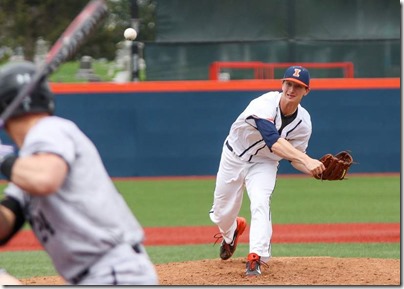 Friday  Ty Weber: 2-3, 3.95 ERA
Saturday Cyrillo Watson: 1-3, 7.76 ERA
Sunday  Matthew James 0-1, 6.75 ERA  
With his strong performance last weekend, Matt James above gets asked back for a repeat performance.  James didn't get the win on Sunday but he put in a good start against the Wildcats.  In his first five innings, he only gave up one run. 
Cyrillo Watson got pretty roughed up last Saturday (10 runs in 3 plus innings) but considering his previous success, Coach Hartleb is willing to give him another try. 
While there was no way Ty Weber was going to get a win with the game going into extras (thank you, Tyler Engel!), he still put in one of his best performances of the year on Friday.  He only allowed one run on four hits in seven innings.  With a 3.95 ERA, he remains the most consistent starter on the Illini staff.
A word about Quinten Sefcik.  He's been pretty dominant in the long relief role lately.  In his last five games, he has only given up one run.  That's over a span of 11 innings.  That includes Saturday's stint which includes 4 2/3 innings of no-hit ball!  I wondered if Hartleb was going to start him this weekend.  My thinking is that he wants him to do what he does best. 
A quick summary of the weekend…
Alexander Field

West Lafayette, Indiana

Fri. April 21

5:00 pm CT

Sat. April 22

5:00 pm CT

Sun. April 23

2:00 pm CT

vs

 

W-L: 19-18 B1G 6-6
 My take on the Boilermakers:  Purdue has had a pretty adequate season.  That's the best way to put it.  They haven't done bad at 19-18 overall.  But they haven't overwhelmed the Big Ten with a 6-6 conference record either. 
The Boilermaker lineup has a few good guys with the sticks with Skyler Hunter (.349) and Nick Dalesandro (.333).  That said, there's no one with Pat McInerney's caliber on the squad.  Jacson Mcgowan leads the team with five homers and overall, the team is out-homered 29 to 18. 
Pitching is Purdue's Achilles'' heel with a team ERA of 5.52.  Only one starter, Jack Dellinger, has an ERA under 5.00.  Purdue has seemed to put it together for a winning record so far though. 
Random Ramblings
Just like last weekend, Illinois is sitting not far behind their opponent in the Big Ten standings.  They are two spots behind Purdue and even more importantly, only 1 1/2 games back of them.  Given Illinois' recent success, a lot can happen in three games.  Illinois has won five straight against the Boilermakers so let's keep it going! 
As a baseball history fan, I'm thrilled to see that the Fighting Illini are going to honor our most famous alum, Lou Boudreau.  On May 5th, Illinois baseball will have a pre-game ceremony to honor the Hall of Famer.  The year 2017 marks the 25th anniversary of the year when Illinois retired Boudreau's uniform number 5. 
May 5th is also Bleacher Bum BBQ so there is plenty of reasons to go to the park that day!
You can find the photos from the last week here in the 2017 Illinois Baseball Report photo gallery.  A couple of highlight photos..
Tyler Engel got a start on Tuesday and managed to go 2 for 4 with a two-run double.  Some nifty glove work too!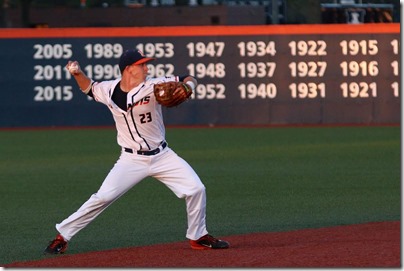 Skony could take his time around the bases on Tuesday.  He hit a bomb against Western Michigan.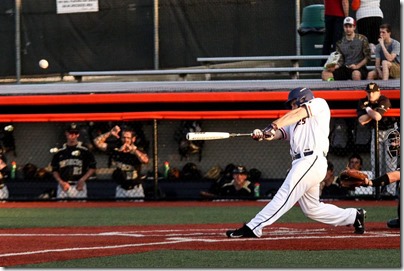 …and my favorite fan section the #rowrowrow guys!!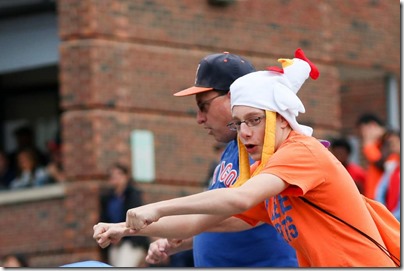 Go Illini!
Related posts