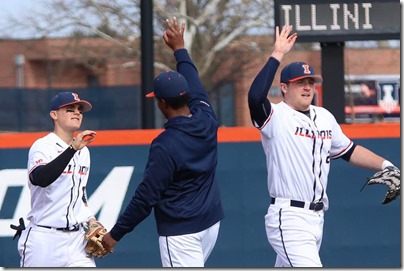 What a weekend for Illini baseball!  A sweep of the Indiana State Sycamores is just what the team needed.  Not only did Illinois win all three games against the Sycamores (12-12) but they did it in style with a fantastic pitching performance from Ty Weber as well as some offensive heroics from Pat McInerney. 
Sunday's win for Illinois gives the team a slightly more respectable 9-16 record for the year. 
A complete game performance by Ty Weber on Saturday garnered him a Big Ten Pitcher of the Week and Freshman of the Week award.  It was Weber's first complete game of his career and the first of any Illini this year.  Weber improves to 2-2 with a 3.80 ERA for the season.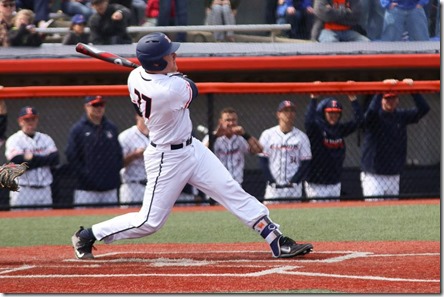 Pat McInerney homered in all three games against Indiana State.  Saturday's dinger by McInerney was a walk-off to help Weber to his win.  On Sunday. his homer was no less important.  His second inning homer took the lead which the Illini would not relinquish.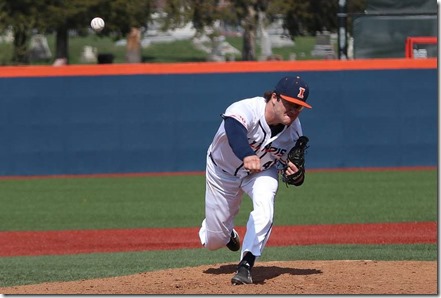 Ty Weber's complete game was probably a welcome relief to the Illinois bullpen.  The relievers have really made an about turn as of late and have become much more effective.  This past weekend, the bullpen pitched a total of ten innings while giving ip just two runs on four hits.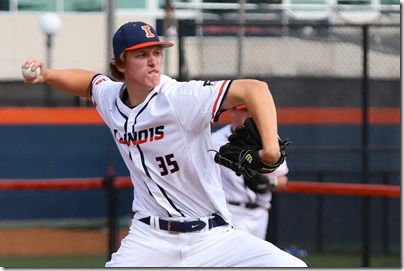 Joey Gerber (above) seems to be in the closer role for now.  He was two-for two in save situations.  Meanwhile, Quinten Sefcik (top) has a team leading three wins, all in relief.  Sefcik earned the W on Sunday. 
Fighting Illini Friday highlights
Fighting Illini Saturday highlights
Fighting Illini Sunday highlights
Illinois Baseball Report Sunday photos
Random Ramblings
Saturday's win was the first time Illinois won in consecutive games this season.  I guess they liked it so much that they did it again.  Obviously, pitching was key this weekend with a 2.00 ERA against a pretty decent Indiana State lineup.  Maybe I'm biased (of course I am) but I have thought that our pitching staff was better than the stats indicated.  Time will tell if this will keep up. 
DH Casey Dodge hit his first homer of the year on Sunday.  Coach Hartleb watches it sail over the left field wall…
More dogs showed up for the annual "Bark in the Park" event than I have seen before.  The Illini really gave the canines a great show!  Check out other upcoming Fighting Illini promotions including May 5th's Bleacher Bum BBQ. 
McInerney's three homers now puts him at 11 for the year.  He now leads the Big Ten over Jake Adams (10).  Pat also leads the conference in total bases with 71 again by one over Adams who has 70. 
Next up
The Midweek game is on the road with the Illini traveling to Sauget, Illinois to take on Missouri on Tuesday.  Game Time is at 6:30pm at GCS Ballpark. 
Related posts