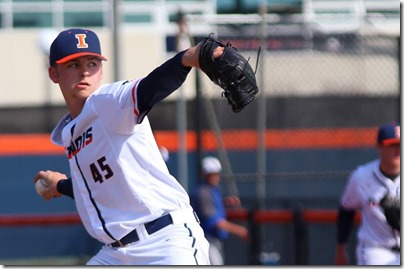 The bad news?  Illinois went 1-2 this weekend. 
The good news?  It was against Michigan, a nationally ranked team in the Big Ten. 
The bittersweet news.  It could have very easily been a 2-1 victory in favor of Illinois. 
Sunday belongs to the freshmen
Illinois won on Sunday to salvage the weekend against powerhouse Michigan who were ranked #18 according to the polls. 
Illinois (11-18, 1-5 Big Ten) scored three runs in the second inning on a couple misplays in the field by Michigan (25-7, 6-3 Big Ten).  Dan Rowbottom added to the tally with a three-run homerun in the third. 
Freshman Cyrillo Watson put in  four innings as a starter but it was another freshman, Ryan Thompson (above) who really got the job done.  In 3 1/3 innings, he kept Michigan scoreless and earned the big W for his second win of the season.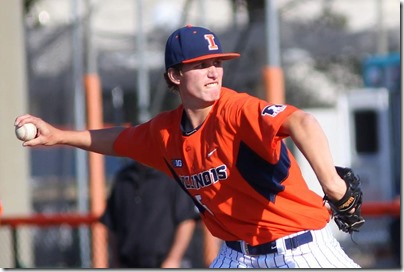 Yet another freshmen, Ryan Schmitt got a big K to get out of the eighth inning and yes, it was time for Joey Gerber (above, he's a sophomore) to close the game again.  Gerber pitched a scoreless ninth while striking out two batters to get his fourth save of the year. 
Not a Good Friday
I know the boys went into the weekend with 3-0 on their mind but let's face it, a 1-2 record versus a team like Michigan is a fine accomplishment.  I was following Friday's game on Twitter though and we were so close to winning that one.  Starter Cole Bellair actually faced the minimum amount of batters through three innings.  That was when Michigan caught fire. 
With a 7-0 lead by the fourth inning,  Illinois lost the lead to a Michigan surge in the fourth and fifth innings.  Final score: 9-8.  Jack Yalowitz doubled and tripled on behalf of Illinois.  Casey Dodge and Doran Turchin also had two hits each. 
Splat-turday
There just wasn't a lot of highlights from Saturday's game if you are an Illini fan.  Not only did Michigan shut out Illinois 7-0 but the only one hit came off of an Illini's bat.  That was Trent Hammond's double that led off the third inning. 
Freshman Ty Weber who is arguably the Illini's best starting pitcher this season, just didn't have his stuff on Saturday, giving up 10 hits and five runs in five innings. 
Weekend Fallout
With Sunday's win, Illinois climbs out of the Big Ten basement.  With a 1-5 conference record, they are tied with Penn State for 11th.  Rutgers is alone in the basement with an 0-3 B1G record.  Here are the current standings. 
Also (and I don't how to feel about this), Michigan surges all the way from #18 to #13 in the polls.  I guess those wins over Illinois mean something. 
Next up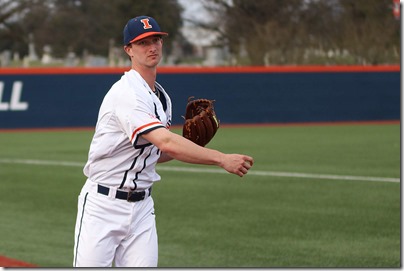 On Tuesday, Illinois will face Illinois State in another midweek game on the road.  The game takes place at 6pm CT at Duffy Bass Field in Normal, Illinois.  Hometown boy Matt James (0-1, 8.83 ERA) will be on the mound
Go Illini!
Related posts