Jack Yalowitz leads all Illini with a .389 average
I say this every year but it's worth repeating… the non-conference season is just the beginning.  The Big Ten season is almost here and that brings a whole new aspect to college baseball.  The competition is more intense, the rivalries begin to heat up and the baseball is that much more fun to watch. 
This weekend, Michigan State (12-5) comes to Illinois Field for the Big Ten home opener.  The Spartans are currently second in the Big Ten behind Michigan in non-conference play.  Illinois who reside in 11th place with a 6-12 record hope to improve their standing.  With a series win, they could move up a notch over Penn State.  Both teams have momentum having won their last games. 
Note the change in the schedule due to weather.  There will be a doubleheader on Friday starting at 2pm.  The third game will be played on Saturday or Sunday depending on conditions.  
Fighting Illini weekend preview
Pitcher probables
Friday  Game 1 Cole Bellair: 1-1, 9.00 ERA
Friday Game 2  Ty Weber: 1-1, 3.45 ERA
Game 3  Luke Shilling: 1-1 5.87 ERA 
The hurlers are settling into a rotation going into conference play.  Cole Bellair (1-1)retains his Friday night role while Ty Weber (1-1) who enjoys the team's best ERA, will go on the mound for Game 2.  Luke Shilling (1-1) who had a moderately better outing last weekend finishes out the weekend.
As a side note, Quinten Sefcik (2-3) is the only pitcher with more than one win.  Sefick pitched in three of Illinois' five games.  In those three games, he's allowed just run in 5 2/3 innings. 
A quick summary of the weekend…
Illinois Field

Champaign, Illinois

Fri. March 24

3:00 pm CT

(doubleheader)

 

Game 3 pending

vs

 

W-L: 12-5
 My take on the Spartans:  The Spartans are off to a 12-5 start for a good reason.  They bring a combination of smart hitting (team average .304), formidable starting pitcher in Alex Troop (3-1, 1.93 ERA) and a very solid bullpen. 
When he swings the bat, Troop isn't so bad either.  As a 1B/OF, the sophomore is hitting .455 in 12 games and 7 starts.
Couldn't help but notice that there is a Dan Chmielewski on the Spartans' roster.  I can't help but wonder if he's any relation to former Illini Nick Chmielewski
Random Ramblings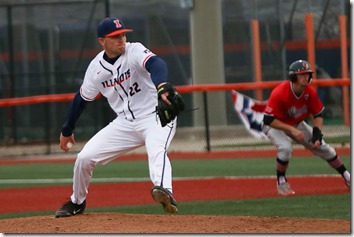 Cyrillo Watson: 3 IP, nada hits
Fantastic job by the pitching staff on Tuesday!  In his first career start, freshman Cyrillo Watson kept ISU hitless in his three innings and earned the win.  The bullpen committee of Quinten Sefcik, Zack Jones, Ryan Thompson, Ryan Schmitt and Joey Gerber held the Redbirds to just one run on four hits for the remainder of the game. 
Michael Massey and Doran Turchin led offense against the Redbirds.  Massey went 3 for 4 with a double and two rbis while Turchin scored four times on two hits and two walks.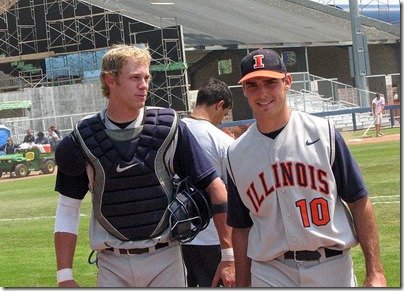 Former Illini pitcher Tanner Roark is doing his part for his country.  Roark pitched four innings of shutout ball against Japan to help Team USA win the semifinal of the World Baseball Classic.  He gave up two hits and struck out one. 
Long time fans will remember Tanner Roark pitching the Illini to the Big Ten Tournament.  That's him above with former catcher Lars Davis after he pitched Illinois to victory in the first round of the tournament in 2007. 
Go Illini!!    
Related posts