Dan Rowbottom gives the fans something to cheer about on Sunday
The Illini baseball team welcome the Indiana State Sycamores to Illinois Field for a three-game series this weekend starting Friday at 6pm. 
Illinois (6-16) is hoping to rebound from a four-game losing streak. That includes a three-game sweep on Big Ten opening weekend against Michigan State as well as a midweek shutout by Bradley on Tuesday.  Conversely, Indiana State is currently on a five-game winning streak.    
Fighting Illini weekend preview
Pitcher probables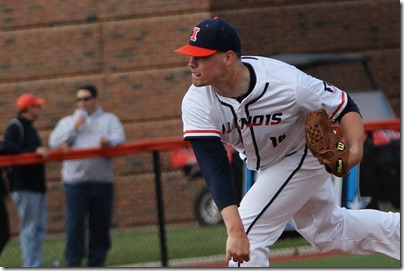 Luke Shilling looks to recover on Sunday
Friday  Cole Bellair: 1-2, 8.02 ERA
Saturday Ty Weber: 1-2, 4.54 ERA
Sunday  Luke Shilling: 1-2 7.33 ERA 
With 41 total runs given up in the three games, there isn't a lot positive to be said about the pitching during the Michigan State weekend. It's just time to move on.  I know the talent is there.  Coach Hartleb does too and that is why we are seeing the same three pitchers this weekend. 
Do I sound like I'm trying to convince myself?  Because I truly believe this to be true.  
A quick summary of the weekend…
Illinois Field

Champaign, Illinois

Fri. March 31

6:00 pm CT

Sat. April 1

3:00 pm CT

Sat. April 2

1:00 pm CT

 

vs

 

W-L: 12-9
 My take on the Sycamores:  The Sycamores have had a little better luck than the Illini lately.  While Illinois have lost their last four games, Indiana State are riding a five-game winning streak.  Their last win was against Illinois' tough Big Ten rival Indiana who is 3-0 in conference play.  Yes, at 12-9 Indiana State will not roll over for over for us certainly not this year. 
Much like Illinois, the Sycamores have plenty in the hitting department.  Tony Roselli paces the team with a nice .414 batting average and an equally dangerous .724 slugging percentage.  Kyle Moore leads the Sycs in homers with five but it's Dane Giesler who is the rbi leader with 16. 
Indiana State pitching is suspect though giving up more runs than you would think for a 12-9 team (5.28 team ERA).  Illinois can look to capitalize on that.  I'm looking for a lot of runs on the scoreboard this weekend. 
Random Ramblings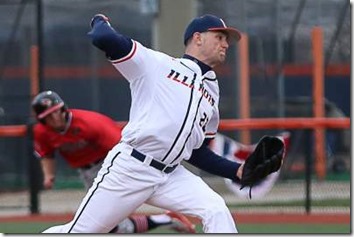 I'm starting to wonder if freshman Cyrillo Watson will get a weekend start sometime soon.  He's started two Tuesday midweek games in two straight weeks and has done fairly well.  In six combined innings, he's allowed five hits and just one run. 
How many walks has he allowed, you ask?  How about, none? 
This weekend's home series against Indiana State will be chock full of promotions to get you to the park. 
Friday:  Super Hero Day wear a super hero costume and get free Illini sunglasses!
Saturday: Kids Club Day pre-register your kids to get a tour of the press box and clubhouse!
Sunday: Bark in the Park bring your dogs to Illinois Field… on a leash please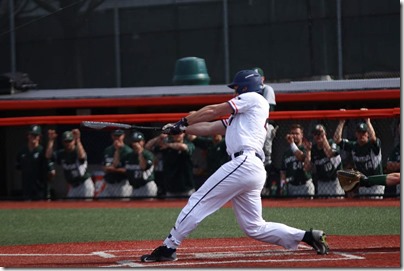 For a couple years, I've been trying to get Pat "the Bat" McInerney to be a thing.  This year, the moniker really has meaning.  Pat McInerney currently ranks second in the conference in homers (8) and slugging percentage (.667).  He is inching up on Iowa's Jake Adams who has 9 HR and a .668 slugging pct. 
That's him hitting one out against Michigan State on Friday night.  C'mon, Pat the Bat!  Don't let up!
Go Illini!!    
Related posts