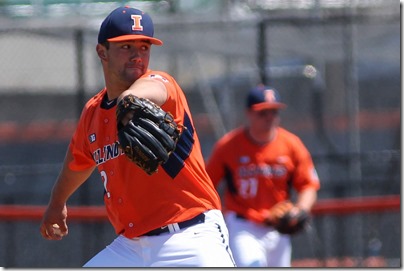 Cole Bellair: back on the mound
Illinois will take their 3-7 record on the road south one more time.  Visiting Conway, South Carolina, they will try their luck in a three-game series against the Coastal Carolina Chanticleers who were the NCAA national champions in 2016.   At 9-6, the Chants are ranked #21 in the country.  
With one more series left before returning home to Champaign, Illinois hopes to gain some momentum.  That momentum is especially important as the Big Ten season encroaches.  Illinois plays their first conference series against Michigan State in just two weeks. 
Fighting Illini weekend preview
Pitcher probables
Friday  Cole Bellair: 1-1, 9.45 ERA
Saturday  Ty Weber: 1-0, 3.68 ERA
Sunday  Luke Shilling: 1-0, 9.00 ERA 
Okay, part of me wonders if Coach Hartleb said, "If you won a game this year, step forward.  You get to pitch this weekend".  Because, that is exactly what it looks like. 
We haven't seen a lot from Cole Bellair but frankly, he has the most experience on this young staff.  From what I hear, Luke Shilling is still showing signs of good stuff in between getting lit up in the past two weekends. And aside from a rough start two weekends ago, Ty Weber has been the most consistent starter on the staff with a team low 3.68 ERA. 
A quick summary of the weekend…
Springs Brooks Stadium

Conway, South Carolina

Fri. March 10

3:00 pm CT

Sat. March 11

11:00 pm CT

(doubleheader)

 

vs

 

W-L: 9-6
 My take on the Chants:  This was going to be the big series of the non-conference season.  It's still big but since the beginning of the season, the national champions have already lost six games.  Coastal Carolina now ranks #21 in the nation. 
Like the Illini, Coastal Carolina has been able to put the bat on the ball but pitching is a thorn in their side.  They now sport a 5.37 ERA.  Fortunately for the Chants, they have outscored their opponents if only by a slight margin (102-92). 
Starting pitcher Alex Cunningham has done well in his three outings (2-0, 2.75).  Kevin Woodall leads in the team in homers (7) and rbis (21).
Random Ramblings
In case you missed it, it's worth mentioning that there won't be a Sunday game.  Due to projected bad weather in South Carolina, there will be a scheduled doubleheader on Saturday.
I don't know about you but I'm excited about next Tuesday's home opener against the Northern Illinois Huskies.  As always, keep an eye on @illinoisbaseball on Twitter for any possible schedule changes due to weather.  February may have been nice but March may have some surprises in store for us. 
Fighting Illini Baseball recently came out with its 2017 Promotional calendar.  Draw a red circle around May 5 because that is when the ninth Bleacher Bum BBQ will take place. There will be free BBQ for the first 500 fans! 
Here is the list of the big promos this year:
Opening Day (March 14)
St. Patrick's Day (March 17)
Big Ten Opening Weekend (March 24-26)
Super Hero Night (March 31)
Kid's Club Day / April Fools Day (April 1)
Bark in the Park (April 2)
Illinois Agriculture Night (April 14)
Bunny at the Ballpark (April 15-16)
Bleacher Bum Barbeque (May 5)
Hail to the Orange Day (May 6)
Honor and Serve Day (May 7)
Spring Cleaning Day (May 19)
I FUND Day / Senior Day (May 20)
Bring us back a win, guys!
Go Illini!!    
Related posts