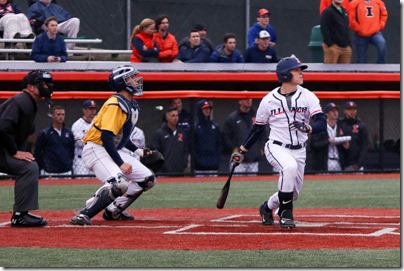 Yalowitz says goodbye to this baseball
On Friday, Illinois baseball returned to the friendly confines of Illinois Field and all was good again. 
Taking on the University of Toledo Rockets who were coming off a win against SIU, the Illini won 11-5 thanks to five rbis by Jack Yalowitz and an effective performance by the bullpen.  That improves Illinois' record to 5-9 for the season with three more games left this weekend.
The Illini's leading hitter at .397, Yalowitz went 3 for 5 with a double, homer and five rbis.  Pat McInerney added another homerun, his fourth of the year which leads the team.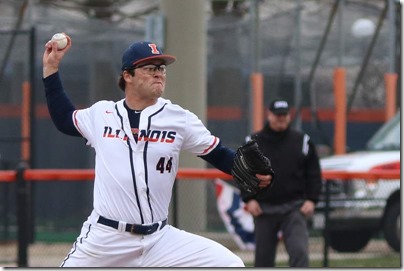 In relief, Quinten Sefcik (above) earned his second win of the year.  Combined with Cyrillo Watson and Ryan Thompson, the bullpen allowed just two hits and one run in the last 4 2/3 innings.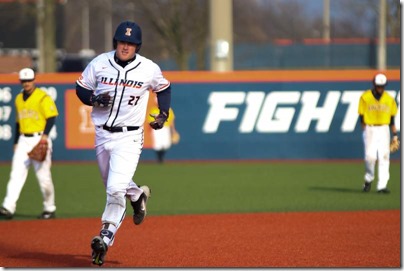 With a 1-0 lead, Toledo fought back in the 3rd inning with a bases loaded triple to give Illinois something to think about.  That didn't last too long though.  Jack Yalowitz hit a three-run homer in the fourth to re-take the lead which Illinois would never relinquish. 
Yalowitz added to that lead by driving home another with a double in the sixth and then scoring on a base hit by Ben Troike.  Pat McInerney (above) capped the sixth inning with a two-run homerun. 
Yalowitz wasn't done yet.  In the 7th inning, he drove home David Craan and yes, scored on a sac fly by Troike. 
Other than the three-run triple, starting pitcher Cole Bellair didn't let the game get too out of hand.  The Illinois bullpen of Quinten Sefcik, Cyrillo Watson, and Ryan Thompson was very effective allowing just one run and two hits in 4 2/3 innings.
Illinois Baseball Report photos for Friday
Random Ramblings
So we're 1-0 at home now doing what we do best.  Hit, hit hit, not to mention a little bit of good defense.  Check out this Brooks Robinson-esque play made by Trent Hammond. 
Ridiculous play by Hammond ends the top of the fourth.

Toledo 3, #Illini 2 | B4 pic.twitter.com/PRH8pqtVYJ

— Illini Baseball (@IlliniBaseball) March 17, 2017
Glad to have Trent back at the hot corner. 
I had a chance to talk to Trent's father, Kip Hammond during the game.  That's always a special treat since the Hammonds hail from California.  Making the trip to Illinois is a big deal. 
Kip has been following the team on the road and gave me a bit of a scouting report.  Despite their rough start, it's not all doom and gloom.  Kip used words like "team chemistry" and "absolute athleticism" to describe the Illini up and down the lineup. He also said that Illinois could have very easily gone 3-0 against Coastal Carolina.  It was a tight series and a lot of calls just didn't go our way. 
Glad to have you here, Kip.  Enjoy the weather! 
Next up
Illinois will be out at Illinois Field this afternoon at 2:30pm to face the Salukis of Southern Illinois. 
Tomorrow is a full day.  Illinois will face both Toledo and SIU.  Sunday's games begin at 11am.  Below is the full schedule of the weekend. 
| | | |
| --- | --- | --- |
| Date | Time (CT) | Teams |
| Friday, March 17 | 12 p.m. | Southern Illinois vs. Toledo |
| Friday, March 17 | 3:30 p.m. | Illinois vs. Toledo (Koozie Giveaway) |
| Saturday, March 18 | 11 a.m. | Southern Illinois vs. Toledo |
| Saturday, March 18 | 2:30 p.m. | Illinois vs. Southern Illinois (Foam Glove Giveaway) |
| Sunday, March 19 | 11 a.m. | Illinois vs. Toledo |
| Sunday, March 19 | 2:30 p.m. | Illinois vs. Southern Illinois |
See you at the ballpark!
Related posts