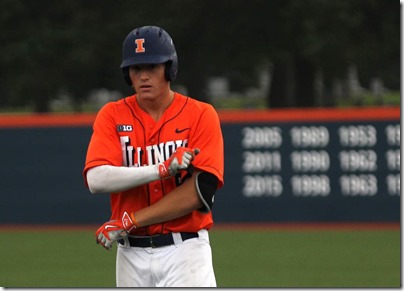 Second HR of the season for Bren Spillane on Friday
If you had told me last week that Illinois was going to win one game against a ranked team that was the defending national champion, I would have pleasantly accepted that. Thing is, with baseball, you get greedy and you want more. Especially with one win down and a second one almost in the books.
Alas, I have to give the Coastal Carolina Chanticleers (9-7) credit for coming through. After losing the first game on Friday, they rallied for a ninth inning win the second game on Saturday and then won the third easily.
The good news for the Illini (4-9) as they head for friendlier territory? Starter Ty Weber is really showing us that he has good stuff. Luke Shilling had a confidence-boosting start which will put him on a path to success. Jack Yalowitz, Pat McInerney and Michael Massey continue to hit while hitters like Anthony Drago and Bren Spillane are now showing they too are to be reckoned with.
Here's a quick recap of the weekend.
.@JYalo_13 with the go-ahead RBI to score @IpavaComet23. BIG hit.#Illini 7, Coastal 6 | T8 pic.twitter.com/InqDysg32d

— Illini Baseball (@IlliniBaseball) March 10, 2017
Illinois played a little comeback ball against the Chants as they took a 6-4 deficit into the 7th inning when the bats came alive. Doran Turchin drove home two runs in the 7th. Tied 6-6 in the 8th, Jack Yalowitz singled in Tyler Engel for the win.
Bren Spillane and Anthony Drago both homered for the Illini in the four-run fourth inning.
Quinten Sefcik pitched 1 1/3 innings of scoreless ball for his first win and Ryan Schmitt earned his first save of the year.
Illinois almost had this. Michael Massey drove home two runs in the top of the first inning to start the game and Illinois kept that lead till the bottom of the ninth inning when back-to-back homers by the Chants took away the chance of a second win for the Illini.
Illini starter Ty Weber pitched brilliantly. In 7 2/3 innings, he gave up just one hit and one run on four walks and six strikeouts. In fact, Weber didn't give up the hit until the 8th inning. Illini's new prospect looks like the real deal!
Illinois hitters were atypically held scoreless for the second game on Saturday. They weren't able to score on the five hits the Chants doled out. This was the first time the Illinois offense was shut out.
While starter Luke Shilling's control was shaky (7 walks), he was practically unhittable. He only allowed one hit in five innings pitched to go with his six strikeouts. Quinten Sefick gave up three runs, one earned giving him the loss and his second decision of the series.
Random Ramblings
Going into the weekend, Illinois was leading the nation in defensive double plays. Ironically, the Illini did not turn a single double dipper in any of the three games this past weekend. They are now tied for 2nd with Duke with 21 behind Virginia Tech.
Illinois weather is a funny thing. In mid-February, games were being cancelled in Texas because of weather while at the same time, it was sunny and warm here in Champaign. Well, it's March now and the eve of our home opener. Looking out the window, I see snow coming down. Sure enough, tomorrow's home opener against Northern Illinois (the day I look forward to every year) has been cancelled. There has not been an announced makeup date yet. Don't put away your Illini gear though because…
Next up
…Illinois will be hosting a three-way round robin tournament this weekend at Illinois Field. Here is the full schedule:
| | | |
| --- | --- | --- |
| Date | Time (CT) | Teams |
| Friday, March 17 | 12 p.m. | Southern Illinois vs. Toledo |
| Friday, March 17 | 3:30 p.m. | Illinois vs. Toledo (Koozie Giveaway) |
| Saturday, March 18 | 11 a.m. | Southern Illinois vs. Toledo |
| Saturday, March 18 | 2:30 p.m. | Illinois vs. Southern Illinois (Foam Glove Giveaway) |
| Sunday, March 19 | 11 a.m. | Illinois vs. Toledo |
| Sunday, March 19 | 2:30 p.m. | Illinois vs. Southern Illinois |
See you at the ballpark!
Related posts