"It's just good to be home. You get to play on your own field, we have great fans here, and I think that's a huge plus for us."
For the first time this season, local fans will get to see the Illini baseball team at Illinois Field! The Illini are hosting a three-team double round robin tourney including the University of Toledo Rockets and Coach Dan Hartleb's alma mater, Southern Illinois University Salukis.
Illinois is coming off a 4-9 road trip which has seen some great hitting and flashes of brilliance from the mound. The pitching has been very inconsistent however and pitching coach Drew Dickinson is no doubt working on that correct formula.
Fighting Illini weekend preview
Pitcher probables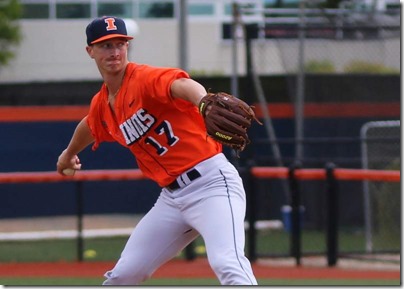 Friday Cole Bellair: 1-1, 9.24 ERA
Saturday Ty Weber: 1-0, 2.82 ERA
Sunday Matthew James: 0-0, 6.23 ERA
Sunday Luke Shilling: 1-0, 6.35 ERA
With a four game weekend, it looks like Matt James (above) is given a chance to prove his stuff with his first start of the season. The Big Ten season is coming up and I'll bet Coach Hartleb wants plenty of options. Ty Weber will hope to continue his solid pitching. I'm hoping to see the Luke Shilling from last weekend who only gave up one hit in five innings (maybe leave the walks at home).
A quick summary of the weekend…
Illinois Field

Champaign, Illinois

Fri. March 17

3:30 pm CT

Sun. March 19

11:00 am CT

vs

W-L: 2-14

Sat. March 18

2:30 pm CT

Sun. March 19

2:30 pm CT

vs




W-L: 9-7
My take on this weekend: Toledo is off to a rough start with a 2-14 record so hopefully can get some confidence-building wins off of them. Their last game was a win against the same Florida Atlantic team that took Illinois two games out of three.
The good news is that the Rockets are hitting just .221 while their pitching is suffering as well (6.21 ERA). They do have two quality starters in Calhoun and Achter who still haven't gotten much support (combined 1-3 record.
Disregard SIU's won-loss record (which happens to a pretty decent 9-7). In any year, the Salukis are a tough match for the Illini. Coach Hartleb's alma mater always comes ready to play.
SIU's Michael Baird is looking like superman right now on mound. Wouldn't be great if Illinois registered the first earned run against him in his fifth start? I think so. Greg Lambert is hitting a solid .349 and leads SIU with 19 rbis.
Random Ramblings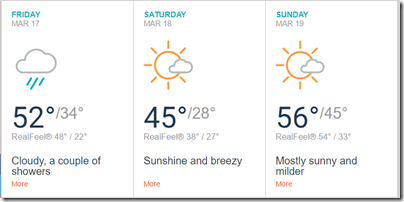 If you all are wondering what the weather will be like, well, it's Illinois. You'll get a little of everything. Warmer on Friday but wet. Hopefully, the rain will subside by gametime. The weekend will be cooler in the 40s but nice and sunny.
Be one of the first 250 at Illinois Field on Saturday… pic.twitter.com/VJJ5uKeMvd

— Illini Baseball (@IlliniBaseball) March 16, 2017
Get there early for your foam glove on Saturday!!
Just a reminder… if you can't make if out to the ballpark this weekend, FightingIllini.com will be streaming the video for free. This goes for Illinois games only. But really, if you're in the area, come on out to park.
Yes, the Illini are still ranked #2 in the nation in defensive double plays but how about this stat? They currently lead the Big Ten and are #26 in the nation in homeruns per game (1.16). Pat McInerney and Doran Turchin lead the way with 3 each. More importantly, eight players have hit a homer and five have two or more.
You have four games to choose from. Get out to the park this weekend!
Go Illini!!
Related posts