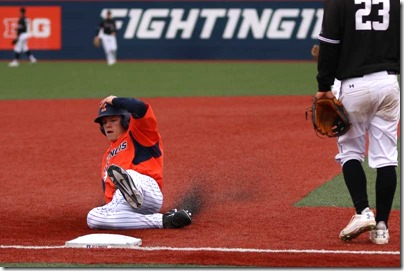 With a 3 for 3 game, Yalowitz's average soars above .400
Up one win on the weekend, Illinois (5-10) couldn't quite pull it off against Southern Illinois (10-9) Saturday afternoon despite another great game by Jack Yalowitz..  The Salukis took advantage of four unearned runs in the seventh inning to win 8-5. 
The Illini did however, put SIU starter Michael Baird's scoreless streak to an end. They wasted no time in scoring two runs on six hits in the first innings.  Baird entered the game with a 0.00 ERA in four starts.  Baird did get the win but we can tack three earned runs on to his stats now.  Yalowitz had a lot to do with that as he went 3 for 3 with a two-run homerun.  He now has a nifty .426 batting average.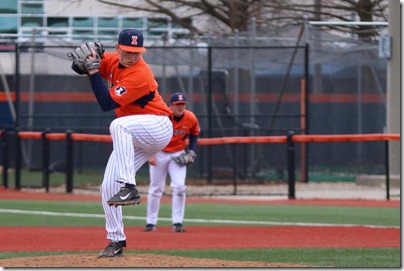 The formula was similar to Friday's game but not quite right. Like Friday, Illinois got off to a lead, the opponent came back then Illinois fought back.  Illinois didn't count on an ugly four-run rally which included an error, a balk and a wild pitch. 
The good news?  Jack Yalowitz isn't slowing down.  He went 3 for 3 with his second homer of the weekend.  His two rbis today gives him seven for the first two games and in my opinion and good start to the Big Ten Player of the Week. 
DH Casey Dodge also had two hits with an rbi. 
Ty Weber (1-1) lost for the first time in his career allowing seven runs, four earned on seven hits in 6 1/3 innings.  Once the seventh inning was over, reliever Ryan Schmitt (above) settled down and pitched a solid 8th and 9th innings.
Illinois Baseball Report photos for Friday
Random Ramblings
Just a reminder, I'm posting photos that I take at Illinois home games at the Illinois Baseball Report photo gallery.  I've been doing this since 2006 or so.  to save you the time, here is the direct link to this year's gallery. 
I had a pleasant chat with the father of Assistant Coach Adam Christ on the sidelines during the game.  He told me that Coach Christ has been very focused on defense.  That doesn't surprise me given the talent Illinois is developing in the infield this year.  They are really producing and showing great promise. 
I also found out a bit of trivia.  When Coach Christ played at Iowa State, he was teammates with former Illinois assistant coach Spencer Allen who is now head coach at Northwestern. 
Next up
Illinois has a full day tomorrow.  They will face Toledo at 11:00am.  Toledo has defeated Southern Illinois in both of their matchups. 
After that, Illinois will finish out the weekend with a re-match with the Salukis. 
Below is the full schedule of the weekend. 
| | | |
| --- | --- | --- |
| Date | Time (CT) | Teams |
| Friday, March 17 | 12 p.m. | Southern Illinois vs. Toledo |
| Friday, March 17 | 3:30 p.m. | Illinois vs. Toledo (Koozie Giveaway) |
| Saturday, March 18 | 11 a.m. | Southern Illinois vs. Toledo |
| Saturday, March 18 | 2:30 p.m. | Illinois vs. Southern Illinois (Foam Glove Giveaway) |
| Sunday, March 19 | 11 a.m. | Illinois vs. Toledo |
| Sunday, March 19 | 2:30 p.m. | Illinois vs. Southern Illinois |
See you at the ballpark!
Related posts