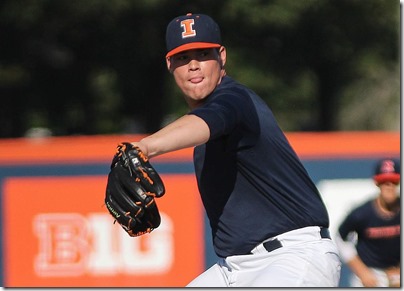 It's a few days past Valentine's Day and now we're talking Opening Day? It's hard to believe. It really snuck up on me. But boy, I am so glad that baseball season is finally here!
The Illinois baseball team are on their way to Beaumont, Texas to take part in the Lamar Cardinal Classic this weekend. Illinois is no stranger to the tournament hosted by Lamar. They have participated in it in years past. This time around, they will be taking on the Milwaukee Panthers for two games and host Lamar Cardinals for two more.
The big story for Illinois is the youth exhibited by the announced pitching rotation for the tournament. Let's take a look
Pitcher probables
Friday Luke Shilling: 0-0, 6.75 ERA
Saturday Game 1 Quinten Sefcik: 0-0, 6.46 ERA
Saturday Game 2 Cole Bellair: 2-3, 3.34 ERA
Sunday Ty Weber: Freshman
Illinois will be starting three sophomores and one freshman this weekend. Between the four of them, they have two career wins and ten career starts. Friday's starter, Shilling, came up as a multi-faceted player having played first base. His slugging was much touted however over the summer last year he did so well throwing from the mound that pitching may be his future. Indeed, it is still power but power pitching.
Quinten Sefcik is another pitcher who can also play the field. He's listed as a INF/RHP. I'm wondering if like Shilling, Sefcik will focus on his arm. That can only help the young sophomore from Carmel Catholic.
Of all the pitchers, we have seen the most from Cole Bellair. He went 2-3 with a 3.34 ERA last year as a freshman. At times, he showed signs of brilliance.
Ty Weber, the freshman, is the one real unknown. That said, his credentials from Menomonee Falls (WI) are quite impressive. In his senior year, he went 7-0 with a 2.05 ERA and struck out 64 while walking just 12. In fact, the Reds liked his stuff so much, they drafted him out of high school. We're glad you chose Illinois, Ty!
A quick summary of the weekend…
Vincent-Beck Stadium

Beaumont, Texas

Fri. Feb. 17

2:00 pm CT

Sat. Feb. 18

12:00 pm CT

vs

2016 W-L: 32-26, 17-11 Horizon

Sat. Feb. 18

4:00 pm CT

Sun. Feb. 19

10:00 am CT

2016 W-L: 35-19, 20-10 Southland
My take on the Panthers and Cardinals: Both Milwaukee (32-26) and Lamar (35-19) were winners in 2016. Lamar even reached 20 wins in conference play against Southland opponents.
Milwaukee's Daulton Varsho and Cole Heili are both back. They both hit eight dingers last year. As for Lamar, they are dangerous every year. Six starters in 2016 batted .300. Fortunately for opponents, their best hitter, Stijn van der Meer, is no longer with them. However, Reid Russell (.354, 18 HR) is still read to play. Lamar is a team to contend with indeed.
Random Ramblings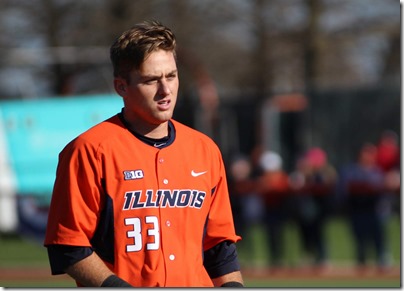 With the beginning of the season come new polls. In the Big Ten coaches poll, Maryland was chosen as the team to beat followed by Michigan and Nebraska.
via Bigten.org
2017 BIG TEN BASEBALL PRESEASON POLL (top six teams)
1. Maryland
2. Michigan
3. Nebraska
4. Indiana
5. Michigan State
T6. Iowa
T6. Minnesota
As you can see, Illinois is not in the top seven so Coach Hartleb may need to surprise a few people. The good news is that three Illini were put on the Preseason Honors list. Those fine players are Trent Hammond (above), Pat McInerney, and Doran Turchin. Nice going, guys!!!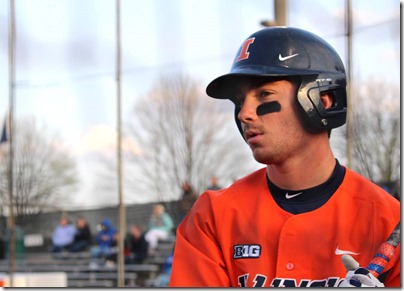 The departure of volunteer coach Kyle Hudson will certainly leave a big hole. Coach Hartleb did find a very capable replacement however. The team announced this week that former Illini rightfielder Casey Fletcher will be coming back to Illinois Field to help out with the team as volunteer assistant coach.
Fletcher played for Illinois from 2014-15 and batted .318 with 60 rbis in 108 games. Glad to have you back, Casey!!
Go Illini!!
Related posts