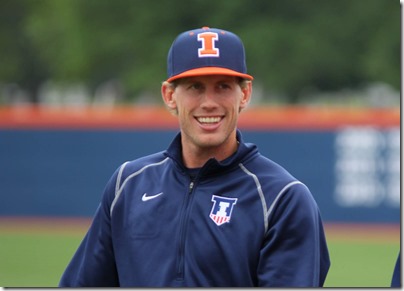 So far, 2017 has been good for former Illini baseball players.  In January, Shawn Roof has been given his own minor league team to manage.  Today, it was announced that former Illini player and current volunteer coach Kyle Hudson has been hired by the Lynchburg Hillcats as a bench coach.  Hudson, a former teammate of Roof, played for the Illini baseball team from 2005-2008.  He also lettered for the Illinois football team.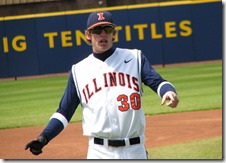 Hudson (shown left during the 2008 Big Ten Tournament) could hit, run and field well.  He still ranks second behind Darrin Fletcher with a career .366 batting average.  He still holds the all-time record for runs during the Big Ten season with 40 in 2008.  Hud ranks 3rd all-time in stolen bases with 66.  Forty of those came in 2008 which ties him with Roof for second best for an Illini in one season.  A fixture in center field, Hudson's defense was flawless.   
Hudson's skills were noticed by the scouts and he was drafted by the Baltimore organization.  He eventually made it to the big leagues for a cup of coffee in 2011 going 4 for 29 with 3 runs and 2 stolen bases. 
In 2015, Hudson became a volunteer coach for the Illini baseball team.  While he was honing his coaching skills, the team won the Big Ten title and advanced through the Regionals.  It must have wonders for Hud's professional development and I'm sure that was not lost on the Cleveland organization.  He will now show them what he can do from a coaching perspective. 
The Lynchburg Hillcats are based in Lynchburg, Virginia and are the Class A Advanced affiliate of the Cleveland Indians. 
Good luck, Kyle!!!
Related posts