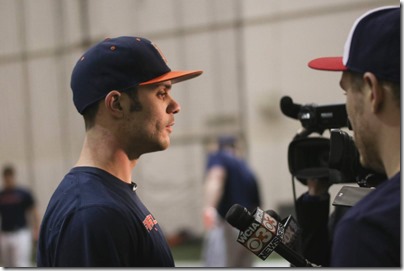 Local media showed up at the Irwin Indoor Football Practice Facility where the Illinois baseball team was taking practice on Friday.  It was Media Day and both Coach Dan Hartleb and designated player spokesperson Anthony Drago (above) took some time to speak to the press.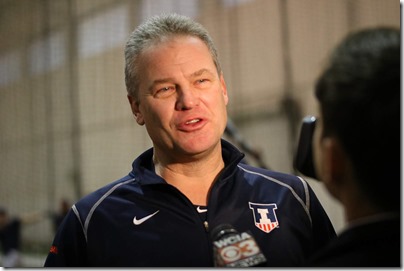 Coach Hartleb's crew is young but he emphasized "Our ultimate goal is always to win a national championship. Everything else is a by-product of that".  Coach told me he was pleased with the turnout and outcome of last weekend's Hot Stove Banquet but is glad to turn his focus back to baseball.  It is a lot of weeks of work and especially the last few days. 
Coach was diplomatically mum when I asked him who would be in Illinois' starting lineup especially in positions that were vacated like shortstop.  "We'll see who is ready at the top of the season; who is mentally prepared." 
I also had a chance to chat with Illinois' new student assistant coach, Mike Hurwitz. After graduating from Illinois, Hurwitz is now entering the MBA program at the College of Business. 
Hurwitz may be a helpful resource for the team academically since there are so many Business majors on the team now. All joking aside, Mike says he there to help the team in any way he can especially those who who inherit the middle infield positions left open by him and Adam Walton.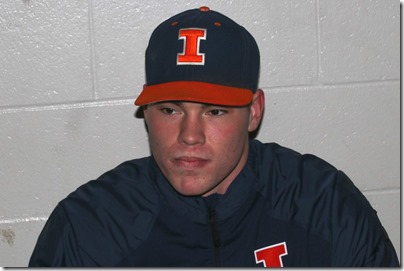 Luke Shilling may play a big part in Coach Hartleb's plans in 2017.  With such a young pitching staff, Shilling can make a difference with his arm (and maybe even with the bat).  Shilling told me he hopes the team can make a good showing against national champion Coastal Carolina before they head back to Champaign.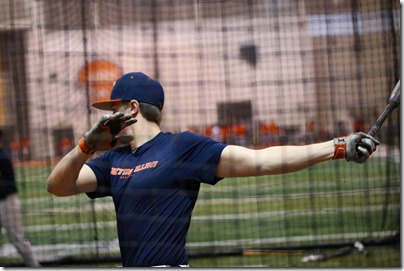 The Illinois baseball season opens on February 17 against Milwaukee in Beaumont Texas.  The Illini home season begins March 14th against Northern Illinois at Illinois Field. 
Related posts