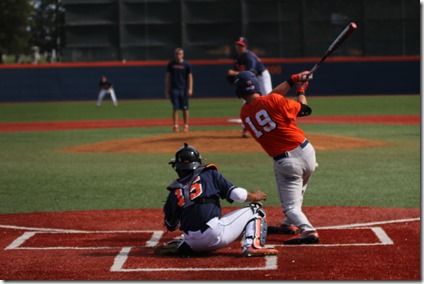 Last Saturday, the Illinois baseball players assembled on Illinois Field for a little friendly competition.  A half hour before the game was to start, there was quite a rain and the pitching mound was covered.  Things have a way of working out though.  At 10:40am, the sky cleared and for the most part, it was a beautiful day for a baseball game. 
Divided into the Orange Team and Blue Team, it was a full game with pretty much all of the players getting into the action.  Both teams played well and it was a good game to watch.  The game may have been friendly but the competition was real.  The Blue Team pulled out to a 2-0 lead early.  By the end of the game though, the Orange Team came back to win 7-5. 
And now, five things I picked up from Saturday's game. 
1.  Luke Shilling still knows how to hit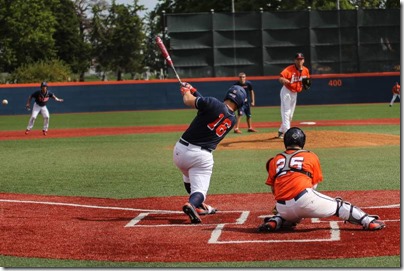 See, while Shilling focused on pitching during college summer ball, he only came to the plate twice all summer.  Well rest assured, he can still rake.  On Saturday, he drove in Blue Team's first run with a double to left.  In the last frame, crushed the ball for a homer to right field fence.  
2.  Mark Skonieczny wants to make sure that catcher's job is his…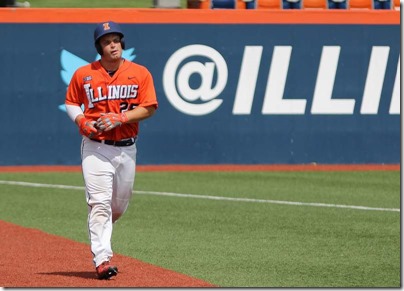 The Orange Team's Skonieczny played a solid game behind the plate on Saturday but Mark had some fireworks up his sleeve.  While Blue Team got off to a quick start thanks in part to Shilling, it was Skony's three-run homerun that sealed the deal for the Orange Team.  That's Skonieczny above, returning from retrieving the ball from the other side of the wall as tradition dictates. 
That one homerun matches his total for all of last year so I'll bet there is more where that came from. 
3.  …but David Craan will at least make him work for it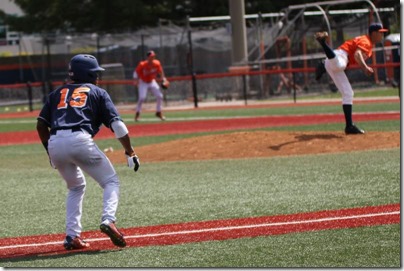 I was really impressed by Blue Team's catcher David Craan.  While speedy Craan didn't hit for power, it seemed he was always on base.  More importantly, he got into scoring position either by stealing a base or by heads up base running.  As a result, Craan scored a couple runs for the Blue Team. In addition, his defense was surprisingly nifty.  He handled several plays at the plate including back-to-back force outs at home. 
4.  We can expect more of the same from Trent Hammond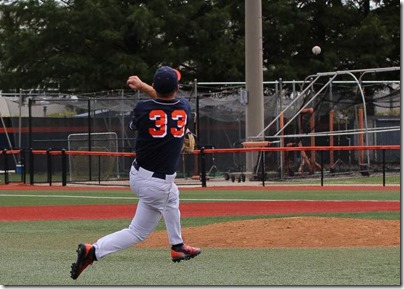 One of the joys from last year was watching the flawless defense of thirdbaseman Trent Hammond.  It looks like like Hammond hasn't lost any of his magic glove over the summer (see photo above).  This year, fellow 3B Jalin McMillan looks like a capable backup and in a year, he looks to be Illinois' starter at third.  For now, his best plan for his sophomore season is to learn everything he can from senior Hammond.
5.  A scrimmage game is a magnet for Illini Baseball alums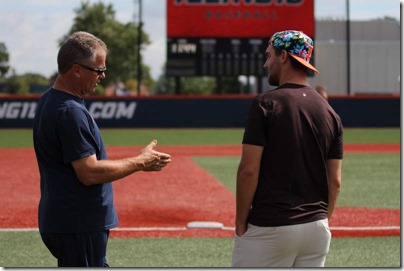 In addition to Will Krug and Mike Hurwitz who have been helping out with the team this fall, a few recent alums stopped by.  That included former outfielder Ryan Nagle and former pitchers J.D. Nielsen, John Kravetz and Nick Blackburn (above, talking to Coach Hartleb) who were most likely in town for the big football game as well.   
All in all, it was great to see the guys in action.  It will be interesting to see what Illinois will do with their middle infield as the team lost both shortstop Adam Walton and secondbaseman Michael Hurwitz.  I saw plenty of talent out there… it will just be a matter of who will play and where. 
More photos from Saturday here.
Related posts