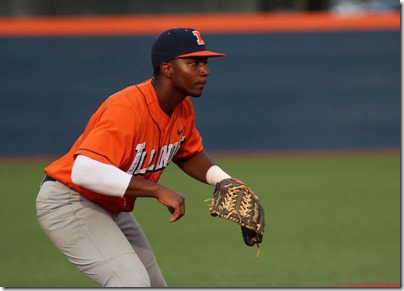 Summer fun for Jalin McMillan who hit .329 for the Southland Vikings
The PR people at the the baseball program have come up with something new (and I love it!).  For the first time, they are posting end-of-season summer league stats for the Illini baseball players. 
I have always been a big believer that summer league plays a big part in a college baseball player's development.  Further, I have seen many players have a good summer season and then follow it up with a similarly great season for the Illini. 
On that note, who had good seasons this past season?  Four stick out to me. 
Pat McInerney is poised to have a fantastic senior year.  For the Kenosha Kingfish (NWL), Pat led the team with a .352 batting average.  He also had three homers and 22 rbis and 22 runs scored in 122 at-bats. 
Luke Shilling:  On the mound, Luke sported a nice 2.76 ERA with 39 strikeouts in 39 innings for the Madison Mallards (NWL).  The downside?  He walked 31 batters.  In case you're wondering, Luke didn't bat much this summer.  He came to the plate just two times. 
Jalin McMillan: A freshman thirdbaseman last year, McMillan showed good stuff for the Midwest Collegiate League's Southland Vikings.  He hit .329 with 19 rbis and four doubles.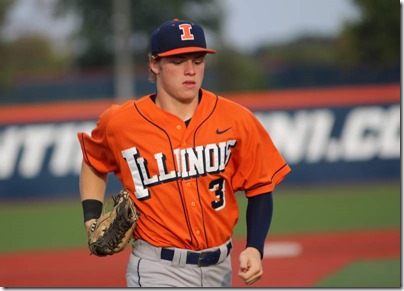 Jack Yalowitz:  Pat's teammate on the Kingfish had a pretty decent year too.  Jack batted .290 with 15 runs scored in 69 at-bats. 
You can see the entire list of players and their stats here. 
Related posts