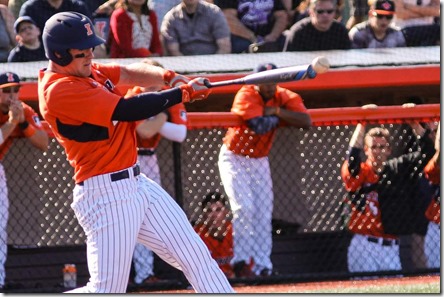 The Illinois baseball roster has now been updated for the 2017 season! 
Some quick numbers 
33 total players
21 returning from the 2016 season
12 new players
11 out-of-state players
6 left-handed pitchers
10 right-handed pitchers
6 players who can pitch and play another position
Illinois will be losing three key position players from the 2016 season.  The team will need to find replacements for catcher Jason Goldstein, shortstop Adam Walton and Michael Hurwitz. 
Of course, the one big loss in the rotation is last year's junior Cody Sedlock who was drafted in the first round by the Orioles.  The Illini will also need to shore up the pen with the departure of aces J.D. Nielsen, Charlie Naso and Nick Blackburn.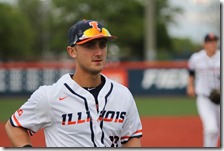 However, stars Pat McInerney, Dan Rowbottom (left), Doran Turchin, Jack Yalowitz, Anthony Drago, and Trent Hammond are all returning.  They'll be joined by pitching stars Cole Bellair and Doug Hayes who both showed plenty of good stuff in 2016.  Also, maybe now we can see what catcher Mark Skonieczny is really made of now that he out from under Goldstein's shadow. 
Of note, transfer athletes Andy Fisher, Sean Leland, and Zac Taylor must sit out one year due to NCAA regulations. 
Rumor has it that fall practice begins tomorrow at Illinois Field.  It will be the first time the boys will all be playing together as one team. 
Have a good practice, boys and don't forget your studies this semester!!
Related posts