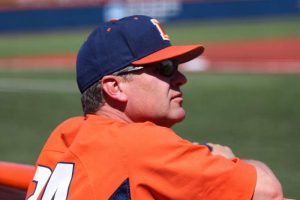 Down to the wire for Coach Hartleb
One step forward.  Two steps back.
That's the story of Illinois baseball as they enter the last regulation series of the season this weekend against Michigan.  One week after they defeated Maryland two games to one, they lost two of three to first place Indiana despite a formidable appearance (again) by Cody Sedlock on Friday.  Sedlock struck out 12 batters in 9 1/3 innings and kept it close as the Illini won a close one 2-1 in extras.
Sedlock didn't get the win but his 12 strikeouts broke the team's single season strikeout record.  His 109 Ks broke John Ericks' record of 108.  Of course, Sedlock still has at least one start left.  FightingIllini.com has listed the accomplishments of Sedlock this season and they are many.
Despite some good pitching (combined seven runs allowed), the Illini offense couldn't come up with enough runs against Indiana to win either Saturday or Sunday.   That gives Illinois a 26-22 overall record and more importantly, a 10-11 conference mark.  That puts them back in ninth place and not an ideal spot.  Eighth place or higher is where you need to be to advance to the Big Ten Tournament.
So what do the Illini need to do to advance?  The interns at FightingIllini.com have crunched the numbers and have provided us all of the viable scenarios.  The simple scenarios?  If Illinois wins all three, they're Omaha-bound.  If they lose all three, they're watching from home.  Any other scenario, it's a little more complicated.
There were some who thought Cody Sedlock was in line for another Big Ten Pitcher of Week award after this performance.  His 9 1/3 inning performance didn't get the win but with 12 strikeouts while giving up just one run, he kept the Illini in it.
Pat McInerney blasted a homerun early in the game and Michael Hurwitz drove home Trent Hammond in the top of the 11th for the winning run.  Amongst the hoopla surrounding Cody Sedlock, Coach Hartleb took the time to recognize Hammond's "at-bat of the game" in which he fouled off pitches until he drew that 11th inning walk.
Illini starter Doug Hayes gave up 10 hits but didn't pitch badly otherwise, giving up just three runs.  Cole Bellair made an appearance out of the pen and struck out two in two innings.

Pat McInerney was responsible for Illinois' sole run driving home Michael Hurwitz in the first with a base hit.

Want to guess who accounted for Illinois' only run on Sunday?  Yes, it was Pat "the Bat" McInerney.  His solo homer in the second inning made it 3-1 Indiana.  Pat now leads the Illini with six homers.  Unfortunately, that was the only scoring Illinois would do against Hoosier Evan Bell on Sunday.

Andrew Mamlic was the hard luck loser giving up four runs on nine hits and no walks.
Random Ramblings
If you haven't noticed, Tyler Jay is having a pretty decent spring for Class A Advanced Fort Myers.  Tyler has won his last two starts for the Miracle and struck out 13 batters in his last 13 1/3 innings.
Here he is getting interviewed by the Fort Myers Miracle PR guy:
Speaking of Andrew Mamlic, he leads the team with seven losses.  Don't for a minute think that's indicative of his performance though.  He's been a hard luck pitcher this season with a respectable 3.95 ERA.
Michael Hurwitz had a great run.  After 26 straight games of getting on base, Indiana finally got to him.
Finally, long time Illini baseball fans will remember relief pitcher Mike Sterk who pitched for Illinois from 2006-2009.  Well, Mike has traded his glove in for a keyboard.  He now blogs as "barstoolcarl" at barstoolsports.com as has been quite successful.
In fact, his latest column got  Cub pitcher Jake Arrieta's attention.   Mike even went on the radio show 670 the Score to talk about it.  You can hear the show here.
Next up
Don't forget… the series against Michigan starts on Thursday.  6pm is the start time.
Go Illini!
Related posts