Cody Sedlock: pitching the Illini to success
Three games, two wins.  Now the Illini have an improved conference record of 9-9. Movin' on up!
Illinois (25-20, 9-9 Big Ten) comes home from Maryland (25-21, 10-8 Big Ten) with a big series win.  It was a low scoring weekend.  Illinois scored 10 runs in the three games, Maryland scored 9. Illinois had some timely hitting and pitching and that made all the difference.
So what does the series win mean for Illinois' chances at the Big Ten Tournament?  Here are the current standings in the Big Ten.  While the Illini are still in ninth place, they have closed the gap a little.  They are only one game behind three teams (Ohio State, Maryland, and Penn State) who are 10-8.  In addition, Illinois is trying to distance themselves from 10th place Iowa who is 8-10. 
Long story short:  It's getting kind of cozy in the middle of the standings now.  Only two games separate sixth place and 10th place right now. 
Regardless, this series win was really important for the Illini right now.
Major highlights
Cody Sedlock retires last 22 batters in a row in Game 1 on Saturday.

Jason Goldstein clinches the series with a game-winning rbi in top of the ninth on Sunday.

Michael Hurwitz extends his on-base streak to 24 games.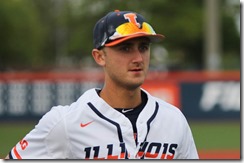 Cody Sedlock was back on track on Saturday's game which was postponed from Friday due to weather.  Not only did he get the win at College Park but he retired the last last 22 batters in the 4-2 Illini win.  In all, he gave up just three hits in the complete game, giving up two runs, one earned. 
Dan Rowbottom (above) continued on his hot streak.  Rowbottom racked up two more hits and two ribbies.  That gave him six hits and seven rbis in the last three games. 
 

 

Illini starter Doug Hayes engaged in a pitchers' duel with Maryland's Taylor Bloom in Game 2 on Saturday.  Both were pitching one-hitters into the seventh inning.  Something had to give and unfortunately, Hayes gave up a three-run homer which was the difference in the game. 

Pat McInerney and Anthony Drago both collected two hits in the game. 

 

 

 

With the doubleheader split on Saturday, that left the rubber game on Sunday.  The game was a rollercoaster match with the lead changing at least six times until the ninth inning.  That was when catcher Jason Goldstein (left) drove in the winning run on a base hit scoring Jack Yalowitz. 

Cole Bellair who gave up four hits and one earned run, was taken out early in the fourth inning and was relieved by Andrew Mamlic.  Mamlic kept the Terps to just one run in four innings while the Illini caught up.  Nick Blackburn got the reliever's win, his first of the year. 

Trent Hammond banged out three hits including a double.   Pat McInerney was responsible for two rbis.   
Random Ramblings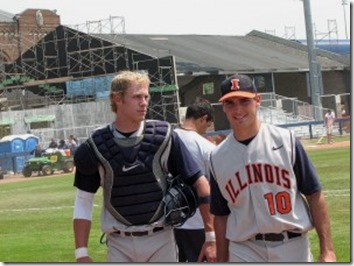 Tanner Roark in his Illini days
Whenever former Illini Tanner Roark comes to Wrigley to pitch, I get a tad conflicted as a Cub fan.  I of course, want him to well but not at the expense of the Cubs.  Well today, Roark pitched for the Nationals against the Cubs and the result was about as perfect as I could expect.  Roark pitched brilliantly, allowing just four hits and no earned runs while striking out seven in six innings.  Yet the Cubs won the game 4-3 on a walk-off homer by Javy Baez. 
I'm sure Roark isn't happy about the outcome but as an Illini fan, I like to see him do well regardless. 
Next up
No midweek games and the Illini are off to another away series next weekend.  They play tough Indiana who are now 13-5 in the conference.  First pitch is at 5:05 pm in Bloomington. 
Go Illini!
Related posts