With Illinois baseball's tournament chances teetering on the fence, they travel to Bloomington, Indiana this weekend to play their last road series of the season.  It will be a tough challenge for Illinois (25-20, 9-9 Big Ten) as they take on the first place Indiana Hoosiers (29-17, 13-5 Big Ten) who have found momentum lately.
The good news?  So have the Illini.  The Illinois pitching staff own the last three Big Ten Pitcher of the Week awards.  Cody Sedlock and Doug Hayes have new hardware on their mantles and they have the chance to prove themselves against the Hoosiers.
Just one game separates ninth place Illinois from Ohio State, Maryland, and Penn State who are all tied for the coveted eighth place which qualifies for the Big Ten Tournament which starts on May 25 in Omaha.
Illini players to keep an "I" on
Cody Sedlock and Doug Hayes who combined, have won the last three Big Ten Pitcher of the Week awards.

Cody Sedlock (yes, his name deserves repeating) who is on the verge of breaking John Erick's single-season team record for strikeouts.  He just needs 11 more.

Michael Hurwitz who has not only extended his on-base streak to 24 games but has also started another hit streak of five games to go with his earlier one of 15 games.
Fighting Illini weekend preview
Pitcher probables
What's this?  A change in the weekend rotation?  Coach Hartleb is obviously going with Cody Sedlock and Doug Hayes who have won conference awards in the recent past but there's a switch for Sunday's assignment.  Andrew Mamlic is back in the starting role again.  Mamlic has done well in his midweek starts lately which probably prompted Hartleb to give him another try down the stretch.
Friday  Cody Sedlock: 5-2, 2.82 ERA
Saturday  Doug Hayes: 6-4, 3.01 ERA
Sunday  Andrew Mamlic: 4-6, 3.75 ERA
Bert Kaufman Field

Bloomington, Indiana

Fri. May 13

5:05 pm CT

Sat. May 14

1:05 pm CT

Sat. May 15

12:05 pm CT

vs

W-L: 29-17,  13-5 Big 10
My take on the Hoosiers:
Make no mistake, there is no team in the Big Ten with more momentum than Indiana right now.
Last weekend, the Hoosiers took first place for themselves after defeating tough Minnesota who are now in second place.  On top of that, they just won an exciting non-conference game against Kentucky on a walk-off hit.  That all adds up to a first place spot in the Big Ten and players who are confident as heck.
The upside for Illinois?  As hyped as Indiana's baseball team is, their overall record is only lightly better than Illinois'.
Quick take:  Can two B1G PoW winners shut down the Hoosier offense?  Let's hope for a nice 2-1 weekend like last time.
Random Ramblings
Get ready for next weekend's home series against Michigan.  It will be the last regular season series of the season.  With any luck, it will be a meaningful one, deciding if the Illini will go on the Big Ten Tournament.
Heads up!  The series against Michigan will take place on Thursday-Friday-Saturday to accommodate the tournament schedule the week after!
Fun stats:  Cody Sedlock is seventh in the Big Ten among qualifiers with a 2.82 ERA.  Look just a little deeper and Doug Hayes is only 11th in the conference with a 3.01 mark.
Probably the most impressive stat is Sedlock's touted strikeout total of 97.  He not only leads the conference but he does it by a margin of 13 over the next highest (84 by Dalton Sawyer of Minnesota).  I mentioned earlier that Sedlock is on the cusp of breaking the single-season record for strikeouts this year.  If all goes well this Friday, he may also break Marv Rotblatt's team record for strikeouts in the conference season.  He just needs six strikeouts to surpass Rotblatt's record of 61.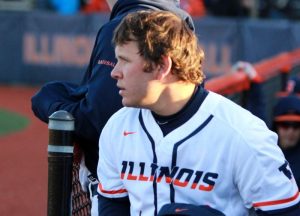 Finally, Michael Hurwitz has played in 44 games so far in 2016.  He has reached base in all but three.
Fan Overview
You know, Bloomington is only an hour or two away from Champaign.  Part of me is thinking "road trip".  If I don't go, there are plenty of ways to follow the game, though.
BTN Plus has a video stream if I want to shell out a few bucks.  I always enjoy listenign to Dave Loane and Co. on WDWS AM1400 or the Fighting Illini Sports Network.
As always, there is live stats from IUHoosiers.com and Twitter updates from @illinoisbaseball.
Go Illini!!    
Related posts