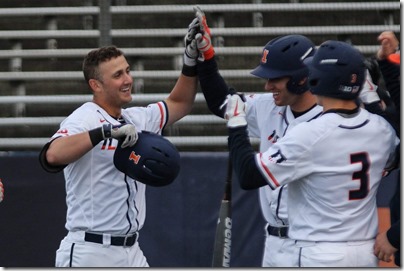 Dan Rowbottom celebrates after scoring on an error after his 3-run double on Wednesday against the Salukis
As the Big Ten season enters the homestretch, Illinois is in need of some wins if it wishes to gain a Big Ten Baseball Tournament bid.  With three conference weekends left, they have a 7-8 Big Ten record (23-19 overall) and currently are in ninth place.  They need to place eighth or higher to get that tourney bid. 
Their first challenge this weekend is an away series at College Park, Maryland against the tough Terrapins. Maryland is currently 9-6 which puts them at fifth place in the conference.  
Midweek Game Update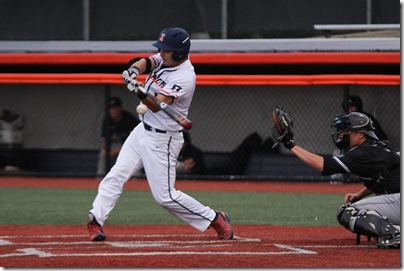 Rowbottom knocks in the winning runs in Wednesday's win
Illinois is coming off two big midweek wins.  Andrew Mamlic's tough pitching and homers by Pat McInerney and Jack Yalowitz helped the Illini claim Bragging Rights against Missouri with a 6-4 win on Tuesday in Sauget, Illinois. 
On Wednesday, they defeated the Salukis of Southern Illinois 6-3 on a key 3-run double by Dan Rowbottom in which he scored on a throwing error.  Here are some photos from the Illini-SIU game on Wednesday
Illini players to keep an "I" on
Dan Rowbottom coming off his four-rbi performance on Wednesday

Doug Hayes who became the second Illini in two weeks honored with the Big Ten Pitcher of the Week award

Michael Hurwitz who despite having his 15-game hit streak snapped, still has a 21-game on-base streak going
Fighting Illini weekend preview
Pitcher probables:  Doug Hayes will look to repeat.  Cole Bellair, who had an atypical rough outing last Sunday, will not.  As for Cody Sedlock, the offense just needs to give him a little support and we should be golden.
Friday  Cody Sedlock: 4-2, 3.04 ERA
Saturday  Doug Hayes 6-3, 2.93 ERA
Sunday  Cole Bellair: 2-3, 3.52 ERA
Bob "Turtle" Smith Stadium

College Park, Maryland

Fri. May 6

5:30 pm CT

Sat. May 7

1:00 pm CT

Sat. May 8

11:00 am CT

vs

Maryland Terrapins

W-L: 24-19,  9-6 Big 10
My take on the Terrapins:
Like the Illini, the Maryland Terrapins went to the Regionals in 2015 so coming into the 2016 season, they is a bit of fear factor with them.  This year, the Terps are little less threatening but they haven't done badly either.  With an overall 24-19 record and a 9-6 conference record, they are currently in fifth place and poised to make the Big Ten tournament unless a breakdown happens. 
One reason why the Terps are doing so well is Mike Shawaryn.  He holds the all-time Maryland record for strikeouts.  The matchup between him and Cody Sedlock on Friday will be one that many around the country will be paying attention. 
Quick take:  Despite W-L records, I think Illinois has a good chance to make up ground here. 
Random Ramblings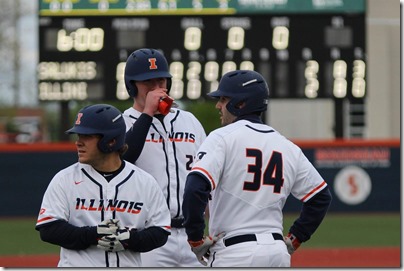 Take another look at the Big Ten standings.  Things may not be as bleak for the Illini as others are making it out to be.  The biggest hurdle is not the standings per se.  The Illini are tied for ninth with Iowa and they need to be in top eight to qualify for the Big Ten Tournament which begins on May 25th in Omaha, Nebraska. 
No, the biggest challenge to overcome are the teams that Illinois will be playing from here on out.  After this weekend's Maryland matchup (a formidable one but one I think Illinois can handle), it only gets tougher.  Indiana at Bloomington is next and after that comes ranked Michigan.  Indiana is second in the Big Ten with a 11-4 conference record and Michigan has a 9-5 mark.  Both are very solid teams.  Illinois' saving grace is that they end their regular season at home against Michigan. 
Can it be done?  I think so.  If they could get lucky against both Maryland and Michigan as well as holding their own against Indiana, a tourney bid might be in the cards. 
Fan Overview
You won't find Illinois traveling any further East for a Big Ten game than this.  All three games will be streamed on BTNPlus.com.  Dave Loane's smooth and silky voice will grace AM-1400 WDWS airwaves and on FightingIllini.com 
If nothing else, you can follow online with live stats from UMDTerps.com. 
Go Illini!!    
Related posts