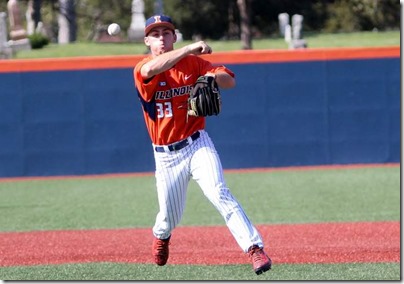 For the second weekend in a row, we had beautiful weather for baseball all three days.  After a marathon 15-inning 1-0 win by Illinois (20-17, 6-6 Big Ten) on Friday night featuring a historical performance by Cody Sedlock, Ohio State (25-14-1, 5-7 Big Ten) came back to win on Saturday. 
However, Illinois won the rubber game on Sunday behind the strong pitching of Cole Bellair and a key hit by Jack Yalowitz.  With the series win, Illinois is now 6-6 in conference play and now holds eighth place to themselves in the Big Ten. 
Major highlights
Cody Sedlock pitched 10 2/3 innings of shutout ball with 14 Ks on Friday

Cole Bellair earns his second win after winning his first win last weekend

Michael Hurwitz' hit streak is now up to 13 games, tied with B1G batting lead in conference play with .404 mark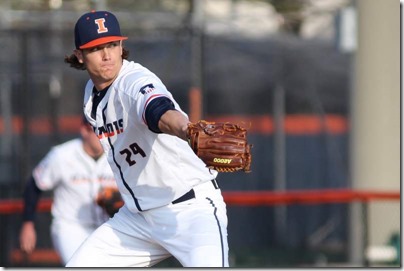 Cody Sedlock:  practically unhittable
Friday night was all about Cody Sedlock.  I have never seen a pitcher on his game like I did Cody.  He struck the first three batters in the first inning and seven batters in the first three innings.  I was watching his pitch speeds in the 10th inning.  Sedlock was still consistently reaching 92-95 mph on each pitch. 
All told, you will never see a performance like this one.  The numbers on Sedlock Friday night: 
10 2/3 IP, 5 H, 0 R, 1 BB, 14 K
You gotta give the Buckeye starter Tanner Tully a little credit too.  He kept the Illini bats silent for nine innings too.  In fact, for 14 and half innings, the Illinois Field scoreboard showed nothing but goose eggs.  It wasn't until Jack Yalowitz scored on a wild pitch in the bottom of the 15th did the Illini go home winners. 
 

 

Solid effort by Doug Hayes on Saturday afternoon

Ohio State finally found their bats on Saturday.  While Illinois starter Doug Hayes pitched a solid game (3 ER in 6 1/3 IP), the Illini offense just couldn't get going and only managed one run. 

Michael Hurwitz and Trent Hammond both continued their hot hitting ways getting two hits each. 

 

 

Zack Kolakowski got a start at short on Sunday

Starter Cole Bellair is getting used to the winning thing, I guess.  On Sunday, he pitched 7 1/3 innings of five-hit ball allowing just one run.  That gives him two straight wins and a nifty 2.79 ERA. 

It was leadoff man Jack Yalowitz who led the Illini offense with two hits including a key bases loaded double in the seventh. 

 
Random Ramblings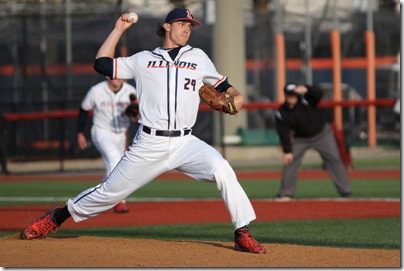 Ok, I called it, didn't I?  In last week's weekend preview, I predicted that Illinois would have its first Big Ten Player, Pitcher or Freshman of the Week of the 2016 season.  Well, not only was Cody Sedlock honored with the Big Ten Pitcher of the Week but he was also named the National Pitcher of the Week chosen by the NCBWA.  Sedlock is the first Illini pitcher to ever receive this award.  Congrats Cody!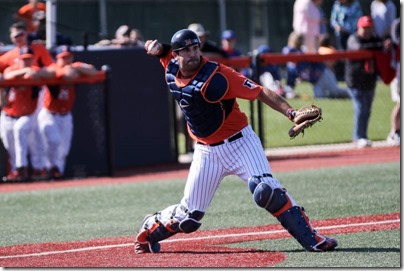 While we're on the topic of awards, the list of athletes up for the Senior CLASS Award is down to 10.  It turns out that Illinois catcher Jason Goldstein is on that list.  Industrial Engineering major Goldstein is hitting .342 with four homers and 24 rbis. 
Senior second baseman Michael Hurwitz is really, really hot now.  He has a 13-game hit streak going and his .404 batting average is tied for first the Big Ten in conference play.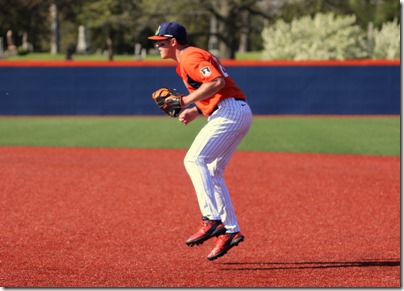 On a lighter note, my friend Robin told me to take a look at Pat McInerney over at first base as the pitch is thrown.  Sure enough, Pat does a little hop at the same moment the pitch is thrown.  You can see Pat getting some air time in the photo above. 
Superstition?  Habit?  Who knows?  It is fun to watch though.
Next up
No midweek game this week.  This weekend though, the Golden Gophers of Minnesota come to Illinois Field.  Make note that it will be a late game on Friday at 8pm due being televised on Big Ten Network.
Go Illini!
Related posts