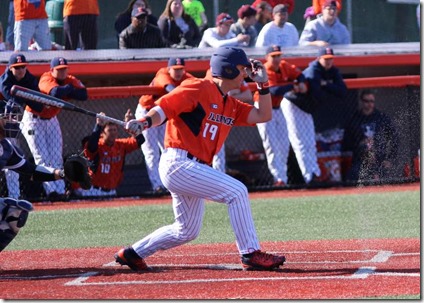 LF Dan Rowbottom improves to .292 for the season
Illinois (11-14, 3-3 Big Ten) had plenty of chances to win every game this weekend against the Nebraska Cornhuskers (19-8, 5-1 Big Ten).  Unfortunately, the good guys came home with one Friday night victory.  Both teams were plagued by the windy weather.  The series was one roller coaster with back and forth and give and take as Illinois had the lead at least twice in both Saturday's and Sunday's games but just could pull off either game. 
Illinois did hand the Huskers their first Big Ten loss 6-4 on Friday night behind the pitching of Cody Sedlock, timely hitting and and some nifty fieldwork to end the game. 
The 1-2 series loss puts Illinois at 3-3 in Big Ten conference play. 
Illinois won Friday night on a wild night by the Nebraska pitching staff.  Their first two runs were scored on four walks and a hit by pitch (and no hits!).  Dan Rowbottom was walked four times alone. 
Speaking of no hits, starting pitcher Cody Sedlock didn't give up a hit until the fifth inning.  The Huskers got to him by the sixth inning though.  The Huskers scored three in the sixth inning.  J.D. Nielsen was able to slow the flow and got his second win of the season.  Nick Blackburn earned his fifth save of year. 
The final play as as exciting as the rest of the game.  With the score 6-4 and two Nebraska runners on base with two outs, Dan Rowbottom fielded a single and threw to cutoff man Trent Hammond who relayed it to Adam Walton who was covering third base.  Walton tagged the runner for the final out of the game for a rare 7-5-6 putout.
Lincoln Journal Star photographer Francis Gardler got the shot.. 
The end.

» Francis Gardler / Lincoln Journal Star pic.twitter.com/hqwHT2ew5J

— Illini Baseball (@IlliniBaseball) April 2, 2016
 

 

Illinois had their chance to win on Saturday.  With a six run lead in the sixth inning, it almost seemed like a sure thing.  Starter Doug Hayes pitched a solid game after his one-hitter last weekend.  He gave up just two runs in six innings.  The bullpen couldn't handle the tough Husker lineup as Big Red exploded for eight runs including a five-run eighth inning. 

Doran Turchin (1 for 2, 2B, 4 rbis) and Jack Yalowitz (1 for 3, 3 runs, 2 rbis) both contributed with the bat.

 

 

Like Saturday's game, Illinois had their chances.  They had the lead at least twice.  Illinois scored two to start off the first inning and responded with four runs in the fourth inning to take a 6-4 lead. 

The Huskers pecked away though.  They scored five more and Illinois could only muster one more ninth-inning run.  Both Dan Rowbottom and Michael Hurwitz rapped three hits.  Two of Hurwitz' hits were run-scoring doubles.

The Huskers seemed to have found the secret to Cole Bellair.  He was tagged with seven earned runs.  It was first time this season Bellair gave up more than one earned run in a start. 
Random Ramblings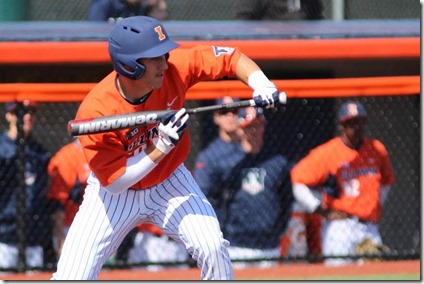 Doran Turchin drove in four runs on Sunday
Dan Rowbottom's four walks in  Sunday's game was one shy of the team record set by Craig Marquie in 2000.  Rowbottom still collected four hits on the weekend and is now hitting .292, second on the team. 
While we're talking stats, centerfielder Doran Turchin is really making a difference in his first year with the Illini.  He may only be hitting .235 but he is tied for first in runs scored (23) and second in rbis (13). 
A quick shout out to Illini play-by-play broadcaster Dave Loane (and color man Brett Moore).  I was traveling out of town this weekend and relied on listening to the games as much as I could via Live Audio on my phone.  For my money, Loane is better than any of the MLB broadcasters who don't know when to shut up. 
Next up
This Tuesday, Illinois plays a home game against Eastern Illinois at Illinois Field.  First pitch is at 6pm. 
This Friday, Illinois travels to Iowa for another three-game Big Ten series.  Friday's game time is 6:05pm. 
Go Illini!
Related posts